The Dow Jones Industrial Average hit an intraday high of 13,005.04 today not seen since May 19th, 2008. Greece's second bailout package could be responsible for today's new europhoric high.
After looking back through the past decade of trading in the Russel 2000 index, I found something very interesting. The Russel 2000 index has always come back around to trade below where the Jan 1st value began trading at.
Yes, you read that right.
Reflecting back on the past two years of European drama, the market has came back each spring or summer to trade lower then where the index started at on Jan 1st. This could mean a correction of over ten percent coming sometime in the near future.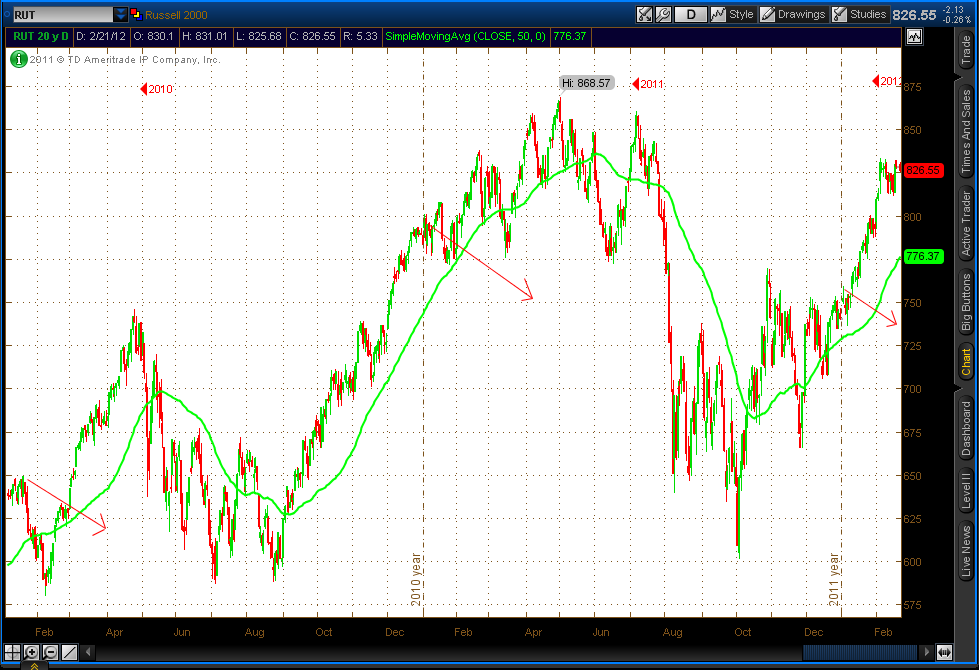 Click to enlarge
With many analysts and market pundits talking about the significance of Dow 13,000, this raises the question of how long this will last? According to the past two years, and even the past ten years, it doesn't sound promising at all.
Not enough data to be convinced yet?
According to Jim Reid of Deutsche Bank, the S&P 500 has remained above its opening January level for the entire year to follow only eight times since 1928 with last such instance in 1979.
If history is any guide for the future, it seems a pullback is imminent, and possibly a more serious correction could be coming. So it seems, Dow 13,000 maybe a warning in disguise for investors.