Facebook's (NASDAQ:FB) chart has developed a definitive upward trend following 11/14/2012 major lock up expiration. Drawing support and resistance trend lines from that date reveal an upward wedge. A convergence of upper resistance and lower support both trending up. Current price is within the price channel. Look for the price to close down around the low of the day which would be the support line drawn. It should test the upper trend line tomorrow with earnings coming and blow through the resistance I see at $33.03. It won't break $36.66 after earnings tomorrow though. It should trade inbetween $33.03 and $36.66 for awhile.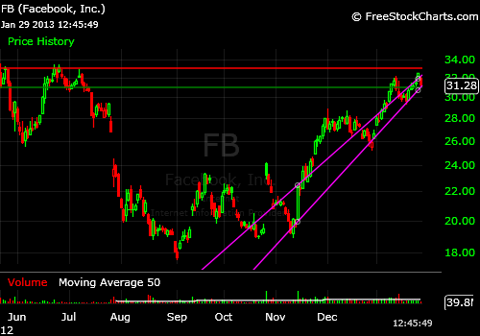 Disclosure: I have no positions in any stocks mentioned, but may initiate a long position in FB over the next 72 hours.
Additional disclosure: Feel free to message me with any quesitons.