McDonald's Corp. (NYSE) - Industry: Restaurants (NYSE:MCD)
Fundamental: MCD is a 4 out of 5-star rating which is attributed by its MSN Money StockScouter Report and Analysts Ratings (see http://investing.money.msn.com/investments/stock-ratings/?symbol=MCD and http://investing.money.msn.com/investments/analyst-ratings/?symbol=MCD). Despite, the inherent cons against its shares not being heavily accumulated nor sold heavily by financial institutions, it is still expected to significantly outperform the market with very low risk over the next two quarters.

Technical: MCD is technically sound, i.e., MCD was upgraded as of Feb 25, 2013 from daily prices; upgraded as of Jan 11, 2013 from weekly prices; upgraded as of Jan 31, 2013 from monthly prices; and upgraded as of Dec 31, 2004 from quarterly prices. BarChart's detailed opinion confirms my opinion at least from a Short-, medium-, and long-term basis (see below ARM 3T Trend Analysis reports).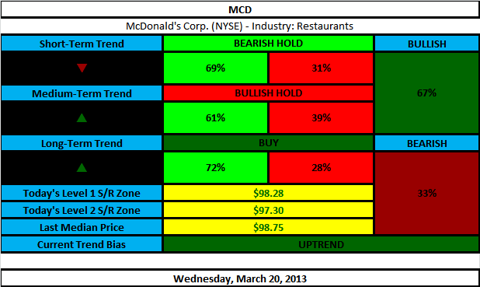 The above summary suggest that from at least a short-term perspective, MCD is currently within a uptrend with 67% bullish sentiment. However, there is a current bearish hold within the short-term trend with a 31% SELL rating. Medium- and long-term trends are at a 61% BUY and 72% BUY, respectively, for the prevailing quarter.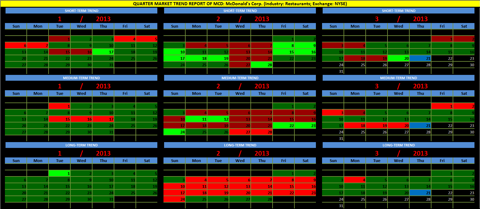 The above depicts a current Short- (NYSE:STT), Medium- (NYSE:MTT), and Long-Term (LTT) Trend analysis of MCD.
STT: Bearish HOLD as of March 20, 2013 (Note: SELL initiated on March 18, 2013)
MTT: Bullish HOLD as of March 18, 2013 (Note: BUY initiated on March 5, 2013)
LTT: BUY ever since January, 2, 2013 (per the ARM 3T Trend Analysis Current Quarter Screenshot)
Notes: STT is a contrast between daily and weekly price activity; MTT is a contrast between weekly and monthly price activity; and LTT is a contrast between monthly and quarterly price activity.
Disclosure: I have no positions in any stocks mentioned, and no plans to initiate any positions within the next 72 hours. I wrote this article myself, and it expresses my own opinions. I am not receiving compensation for it. I have no business relationship with any company whose stock is mentioned in this article.