TW - Towers Watson & Co.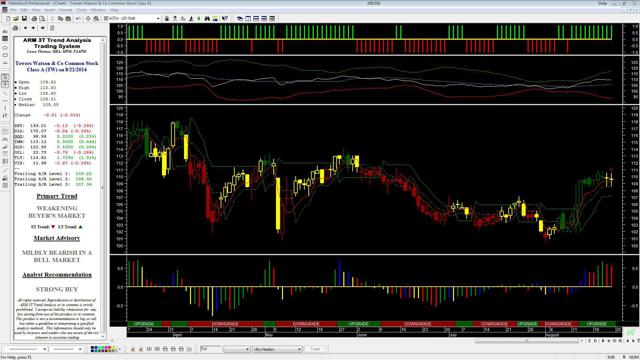 TW's Primary Trend indicated that it was a Strong Buyer's Market since 8/6/14. At that time, Market Advisory equated to Strongly Bullish in a Bear Market with an Analyst Recommendation of Strong Sell (see above chart from Equis MetaStock). Price activity was also pulling upward and contending with its Trailing Support/Resistance Price Level II (TSRL2) of $103.45. On 8/7/14, TW broke through this price and found support at TSRL2 and have been trailing TSRL2 ever since despite its pullback on 8/8/14. Note: TW demonstrated a potential to rise in price on 8/7/14 when its TSRL1 crossed TSRL2 becoming a Moderate Sell with Bullish Bias (see price pane from Equis MetaStock).
Notwithstanding TW's historical price trend, as of market close on 8/22/14, TW's Primary Trend currently indicates a Weakening Buyer's Market. A3TA's Market Advisory also suggests that TW's price activity is Mildly Bearish in a Bull Market and remains a Strong Buy, i.e., per A3TA's Analyst Recommendation.
A3TA Calendar View of TW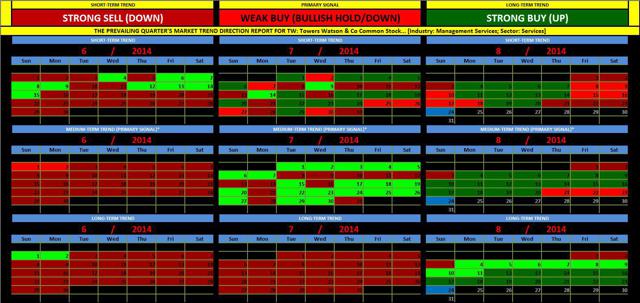 TW's prevailing trend direction as highlighted above (in Microsoft Excel 2010).
Correct Interpretation:
-Dark Green signals indicates a Strong Buy and the market is currently (or was historically) Up.
-Light Green signals indicates a Weak Sell/Bearish Hold and the market is currently (or was historically) Up.
-Light Red signals indicates a Weak Buy/Bullish Hold and the market is currently (or was historically) Down.
-Dark Red signals indicates a Strong Sell and the market is currently (or was historically) Down.
Do note that bearish and bullish holds are indicated in yellow per the chart provided by Equis MetaStock.
What is of particular interest is TW's prevailing Long-Term Trend: Strong Buy (Up). The Long-Term Trend coincides very well with TW's weekly price chart and an overall status of changing from a Downgrade to an Upgrade per the research methods of A3TA as of this week's market close. Specifically, TW's Long-Term Trend was highlighting the Bulls'/Buyers' resolve since the market close on 8/4/14. This is very significant as TW had just reached a new low on 8/1/14 - the previous day of trading. A3TA's weekly perspective has the earmarking of a rising star and is highlighted within the Equis MetaStock price chart below: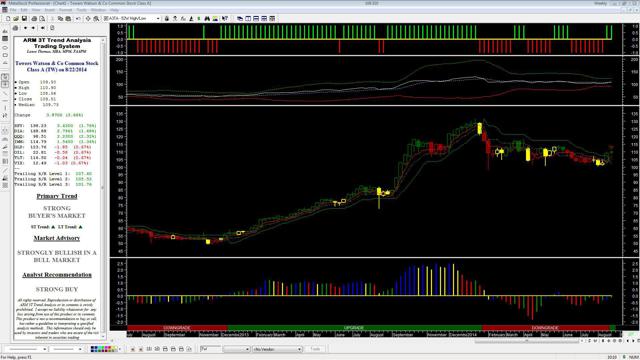 Cumulative Market Summary
Albeit, TW's composite scores fans out rather well, i.e., from a technical, fundamental, and/or sentimental standpoint, TW is forecasted to be at least a relatively safe investment for the next several weeks (cf. research gathered from BarChart.com, MSN.com, and StockScouter StockScores.com): 1.431 on a 2.0 scale.

Disclosure: The author has no positions in any stocks mentioned, and no plans to initiate any positions within the next 72 hours.