Who Decide About My Dividends
28 December 2012
I hope to co-own a company with good dividends forever if it continues the dividend streak (e.g. keeps reasonable dividend growth /DG/ rate). The company's Board of Directors (BoD) and CEO decides (legally and informally) to pay dividends or not. It is well known from the classical paper by Lintner (1956) that usually BoD is reluctant to cut regular dividends but more recently alternatives such as shares buybacks are considered by some BoDs. Probably such cut reluctance is a psychological factor and in the case of total replacement of company BoD and officers this psychological factor might disappear. Of course, it is hard to imagine why the total replacement happens in a good company but any member is a human and cannot work forever. Hence my intention to keep the company stocks forever conflicts with mortality. Therefore, I analyze age of BoD members and executives (data from Reuters.com) for DG companies listed in David Fish CCC list (November 2012 version) - see dripinvesting.org/Tools/U.S.DividendCham....
My dataset consists of 6941 positions in 457 companies (CCC list has 466 companies but I didn't find information about 9 firms) and include 6463 unique persons (439 individuals work in 2 different BoDs, 36 human beings serve 3 or more different firms).
Fig. 1 shows the age of all BoD members versus years of continuous dividend growth (NYSE:DG).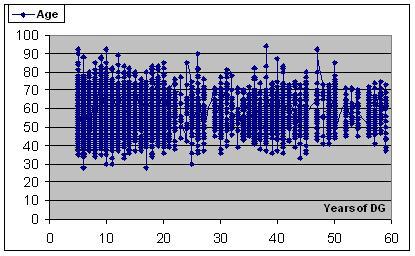 Fig.1
Although it seems that spread is reduced with increase of DG history, ages of individuals are mostly in the range 40-80 years for almost all companies.
Fig. 2 shows the distributions of ages of all BoD members for different DG groups according to the CCC list. Practically all 3 distributions are close to truncated normal with median age about 58 years and sigma about 8.5 years.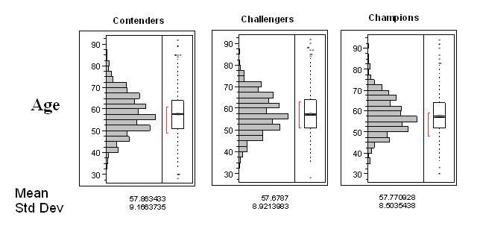 Fig. 2
On the first glance there are no differences in the ages of persons who work in all DG groups.
Although some individuals have more than 1 position in a company (e.g., CEO is often BoD's chairman), I count only one role for a person (usually the first or the top in BoD/officers hierarchy position). Therefore I analyze age of 457 BoD's chairmen and only 273 CEOs and 120 CFOs (although all 457 companies have CEOs and most have CFOs). Also several persons can have the same title (e.g. director or president) in the same company, hence there are 480 directors and 2276 independent directors, 336 presidents versus 1311 vice-presidents and 679 senior vice-presidents in the analyzed companies (I cannot guarantee that data from Reuters.com are complete).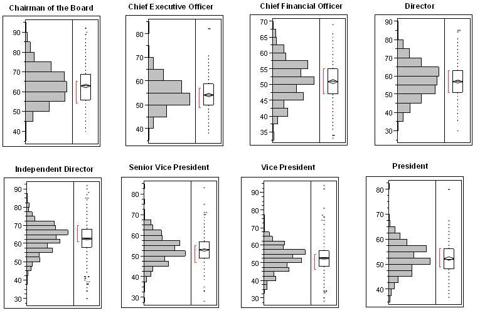 Fig. 3
As anybody can see in fig. 3 chairmen of BoD (as well as vice-chairmen and independent directors) are older than CEOs, CFOs and persons in other positions. Mean age of BOD's chairmen and independent directors is about 63 years while company officers are about 10 years younger.
Although BoDs, top executives as well as independent directors of DG companies are relatively old I hope that they transfer their attitude to dividends to younger company officers that continue traditions of dividend growth.
It seems interesting to analyze probability of dividends cut from periods CEO, BoD chair and probably CFO serve a company. Unfortunately I don't have access to databases that have correct information about executives, board and officers terms (footnote 1).
So hopefully somebody will investigate correlations between DG rate, yield and personal data of BoD/executives.
In parallel to this study I analyzed 200+ recent special dividends.There is a correlation between CEO's number of marriages and ratio of special distribution to cash in a company although it seems that most CEO/BoD just like round numbers for specials (footnote 2).
<30 December 2012>
I compared ages of all CEOs and Chairmen in my database. In this case if a person holds both positions I counted this person twice. Some companies have 2 Co-Chairman and I included both in the calculation. Fig. 4 tells us that in average CEOs are about 7 years younger than Chairmen and distribution of CEO ages is tighter than similar distribution for Chairmen.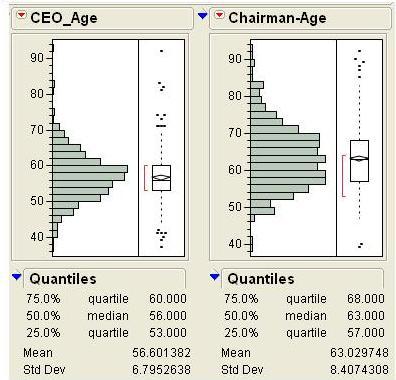 Fig. 4
Average CEO age for 450 companies is ~ 56 years.
<15 Jan. 2013>
I also compared dividend growth rates /DGR/ from Nov. 2012 CCC list vs. CEO and top executives age (fig.5)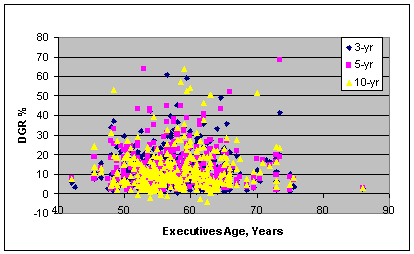 Fig. 5
and did not find significant correlations.
I leave conclusions to the readers.
Footnotes:
1.
For example the databases (I have access to) provide the following info:
Reuters:
"Mr. R. Bruce Northcutt is President, Chief Executive Officer, Director of Copano Energy LLC. Mr. Northcutt joined the Board of Directors in November 2009. Mr. Northcutt has served as President and Chief Executive Officer since November 2009 and was President and Chief Operating Officer from April 2003 until November 2009. "
"Dr. Nathan Zommer serves as Chairman of the Board, Chief Executive Officer of IXYS Corporation. Dr. Zommer, founder, has served as a Director since inception in 1983, and has served as Chairman of the Board and Chief Executive Officer since 1993. From 1993 to 2009, Dr. Zommer served as President and, from 1984 to 1993, Dr. Zommer served as Executive Vice President."
Mergent:
"R. Bruce Northcutt, is President (since April 2003) and Chief Executive Officer of Copano Energy, L.L.C. Mr. Northcutt was Chief Operating Officer of Copano Energy, L.L.C., has served in his current capacity since April 2003. "
"Dr. Nathan Zommer, Ph.D., founder of IXYS Corp. (NASDAQ:IXYS), has served as a Director since IXYS's inception in 1983, and has served as Chairman of the Board and Chief Executive Officer since March 1993. He served as President of IXYS from March 1993 to December 14, 2009. From 1984 to 1993, Dr. Zommer served as Executive Vice President."
While both databases have the same info about CEO of IXYS Corp., these databases show different dat for CEO of Copano Energy LLC.
Hence a reseacher needs extract information from text (there is software for this) and correctly assign data.
2.
Information from Lexus-Nexus and Cross-References databases for some significant special dividends distributed in December 2012.
One point I'd like to ask CEOs & BoDs of many "special 2012 dividend" companies - do they know finance 101? If you think the answer is "YES" - please explain why from 212 special dividends (listed in my database on 12/13/2012) more than 40% were round numbers (43 companies declared $1.00, 17 companies declared 50 cents, 17 other companies declared $2.00, and plenty of nickels and dimes as well as $3.00 or $5.00 specials). To me it sounds that the CEOs & BoDs of "1$ specials companies" just peaked a round number but they suppose to compare payments with company books. IMO at least CFOs of such companies are qualified at most to be store managers in Dollar Tree or conduct only "1$ for any item" bargain....
NB:
Statistics are available upon a request.
I'm not a BoD member of officer of a DG company yet. Proposals are welcome! 8-)