A fluke is defined as an "unlikely chance occurrence, [especially] a surprising piece of luck." This seems to describe Apple's (NASDAQ:AAPL) iPhone: a great product that had uniquely high margins. Investors got carried away with their margin assumptions and have spent the last few months resetting their expectations. This does not mean that Apple lost its ability to innovate. But, going forward the real issue for Apple is software. Now that competitors' hardware is catching up, smartphone software will become increasingly important in purchasing decisions. Software innovation will be crucial for Apple to continue to maintain its edge and high margins. In this article I will discuss Apple's margin mix, shift in sentiment, upcoming software war and valuation. Bottom line: I continue to be bullish on Apple. It is positioned to continue to lead, but there is no guarantee that it will.
Apple's Margin Mix
Over the last few months there has been a lot of talk about Apple's margins, which have come down a bit.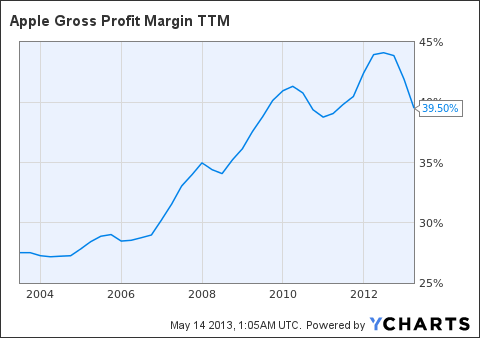 AAPL Gross Profit Margin TTM data by YCharts
Apple's margins are best understood by breaking them down by product line. The third graph in this Asymco post shows the estimated gross margins for the iPhone, Mac, iPod, iPad and overall company.
While the gross margins for each of the main products probably declined a bit over the last few quarters, the real issue is Apple's product mix.
The iPhone has a gross margin of ~50% and the other products have gross margins in the 25-30% range. The iPad, Apple's latest new category, does not match the iPhone in margins. Furthermore, the iPad mini has lower margins than the regular iPad.
It is probably unrealistic to expect Apple to come out with new hardware products that have gross margins similar to the iPhone. Apple's margins would still be very respectable even if they level off in the mid-30% range and its valuation is already pricing in all sorts of disaster scenarios.
Barron's reported Gene Munster's take on investors' margin assumptions:
Munster thinks investors are imagining a "nuclear meltdown" in Apple's gross margin, bringing it as low as 32% by 2015, "including 50% cannibalization of the regular iPhone from the cheaper iPhone, a 15% margin on the cheaper phone, and a 10% margin on the TV," alluding to speculation Apple will introduce a television set. (Source: Barron's)
The real question is what does the drop in margins say about Apple. Does it mean that Apple's innovative days are over? Is Apple quickly going the way of Kodak or other former hardware leaders?
My approach is that the iPhone was a fluke (in the best sense of the word). Instead of looking at the last few years as the norm, maybe we should look back on them as the exception. That does not mean that Apple's glory days are over. In fact, the estimated iPad gross margin in the 30% range is a testament to the power of Apple's products and brand.
Margin Upside
Over the last few months, the focus has been on the downside trajectory of Apple's margins. However, I wonder if investors and analysts are leaving out the potential margin lift from a larger iPhone.
Apple has famously dismissed the notion of an iPhone with a larger screen. But, Tim Cook's perspective may be changing slightly.
On the FQ1 earnings call on January 23, Tim Cook said the following about a larger iPhone:
Bill Shope - Goldman Sachs
... Many of your smartphone competitors are now focusing on differentiating themselves with larger screen sizes than that of the iPhone 5 in your predecessor products. I mean, how do you think about the competitive dynamics for the market right now? In that respect, do you think that's a valid point of differentiation? And do you think there is a long-term case for a larger screen size or at least the larger variety of screen sizes for iPhones and for the smartphone category in general?
Tim Cook - Chief Executive Officer
Hi Bill, it's Tim. The iPhone 5 offers as you know a new 4-inch Retina display, which is the most advanced display in the industry and no one comes close to matching the level of quality as the Retina display. It also provides a larger screen size for iPhone customers without sacrificing the one headed ease-of-use that our customers love. So, we put a lot of thinking into screen size and believe we've picked the right one. (Source: Seeking Alpha, emphasis added by author)
But, on the last earnings call (April 23) Tim Cook said:
Ben A. Reitzes - Barclays Capital, Inc.
All right, thanks. And Tim, my follow-up just for you, just maybe asking you this every quarter in different ways. But I just wanted to get your reaction to what you thought of the 5-inch phone market at this time versus three months ago? And if anything has changed in your view as to that market and its place in the smartphone world versus your 4-inch product? And that's it from me.
Tim Cook
Yeah Ben, that's a good question. My view continues to be that iPhone 5 has the absolute best display in the industry. And we always strive to create the very best display for our customers. And some customers value large screen size, others value also other factors such as resolution, color quality, white balance, brightness, reflectivity, screen longevity, power consumption, portability, compatibility with apps and many things.
Our competitors had made some significant trade-offs in many of these areas in order to ship a larger display, we would not ship a larger display iPhone while these trade-offs exist. (Source: Seeking Alpha, emphasis added by author)
I sensed a subtle change in the way Tim Cook answered the question. In January he seemed pretty confident that the current iPhone screen size is the best. However, more recently he said that there are issues preventing Apple from coming out with a larger screen. This leaves the door open for the potential of a larger screen if, and when, Apple resolves these issues.
The outcry for a larger iPhone screen must be getting through to Apple's management. In the past the company has been comfortable with various product sizes. I don't see why they wouldn't be open to a larger iPhone (assuming it can meet Apple's high standard). It seems only a matter of time until the larger iPhone arrives.
A larger iPhone would presumably have higher margins. It could also increase demand for the new phone and take back some of the momentum that Samsung/Google may be gaining.
It is important to note that even with a larger screen the iPhone product line may face margin pressure if carriers lower their subsidies and Apple comes out with a low-price iPhone (or continues to reduce the price on old models).
Sentiment Shift
For many weeks I have been chronicling the negative revisions to analysts' EPS estimates. When I checked this over the weekend I was surprised to see that estimates did not decline.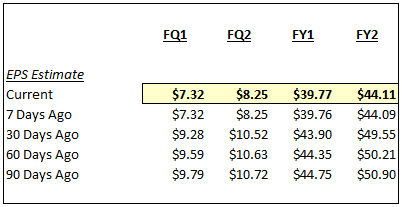 (Source: Yahoo Finance, May 13, 2013)
It is still too early to tell if analysts estimates really bottomed. Analysts tend to change their estimates around earnings time, so the real test will come in the run-up to Apple's next earnings release.
However, there seems to be a slight shift in sentiment in the analyst community. The initial reaction to Apple's most recent quarter was negative, but that negativity seemed to go away quickly. Analysts may be responding to the rebound in the stock price and are adjusting their estimates accordingly.
Summer Software War
The real challenge for Apple going forward is software. Apple will need a software edge to continue its premium pricing, which allows for high margins.
Apple is losing the first mover advantage it had when the iPhone and iPad first came out. The difference between the first iPhone and the feature phones or Blackberry (NASDAQ:BBRY) that were available at the time was a lot bigger than the gap that exists now.
I would argue that Apple still has a lead in terms of the hardware, but others are catching up fast and differences in hardware may not mean as much for the average buyer. Apple still has a great brand that draws customers, but going forward the battle will be fought with software. In this war Apple's main competition is Google (NASDAQ:GOOG) and, to a lesser extent, Microsoft (NASDAQ:MSFT) and Blackberry.
In terms of the software, it seems that Google currently has a slight advantage. In addition to the large Android user base, it controls some of the killer apps for mobile: Gmail, YouTube, Google Maps and Search. Google Now also seems promising.
The challenge for Apple, Google, Microsoft and Blackberry is to create a mobile environment that offers better personal productivity and entertainment options. Google seems to have the advantage because it has a lot of the key pieces. However, others may be able to integrate the pieces better as well as come out with better apps in the future.
I don't think it is a winner-take-all situation and Apple and Google may continue to split the space.
The next battle in the software war will start in the coming weeks. The Blackberry Live event is getting underway now. Google's developer conference is on May 15-17 and Apple's developer conference is on June 10-14. Microsoft's developer conference is on June 26-28.
There is a lot of anticipation for Apple's iOS 7 and Apple has a lot riding on it. There should be more information about it at the time of the developer conference.
Finally, it will be interesting to see what Apple does in the enterprise market. On the last conference call Tim Cook emphasized Apple's growing presence in top corporations. I am interested to see if Apple comes out with any significant software solutions aimed at the enterprise market.
Apple TV
Aside from a larger iPhone, the most anticipated Apple product is a new TV. I think many investors are too focused on hardware when thinking about an new Apple TV.
The challenge for Apple is not just to create a new screen or box. A new Apple TV seems to be a software issue. The challenge is to disrupt the TV experience, which may require unbundling cable and delivering a more personalized TV experience. This is a key part of the software war discussed above.
Valuation
At $455 per share, Apple is trading at 11.4x FY 2013 EPS.
There are a lot of moving parts in the EPS estimates because of the potential for new products as well as the timing of the buyback.
Apple's valuation has been called cheap for a while. At this point, sentiment and the direction of earnings expectations are more significant catalysts for the stock than its valuation. However, the high dividend yield and cash position (which will be used for the buyback) may provide a floor for the stock.
Conclusions
There is a lot of chatter about Apple's margin declines. Instead of taking it as a sign that Apple is losing its golden touch I prefer to look at the last few years as an exceptional period for Apple's margins and not indicative of the norm.
It may be too early to call a bottom in analyst estimates, but it seems that sentiment may be starting to shift.
The next battle in the smartphone wars will focus on software. With the developer conferences coming up in the next few weeks we will get a lot of information about updates to the various mobile operating systems and key apps. I expect software to become an increasingly important factor in smartphone purchases, so these updates could shift the tide for any of the big players.
My base case assumption is that Apple and Google continue to split the market for mobile operating systems. Apple will have an advantage with its integrated software and hardware and Google will have an advantage because of its leading apps. There will be customers for each. However, I don't see much of a threat from Microsoft or Blackberry.
Apple is not done innovating and if its upcoming software refresh succeeds then it will be positioned for more growth and should be able to maintain relatively high margins.
The competition from Google may not be bad for Apple, especially if Apple can maintain the perception that it leads in the premium segment of the market.
The current stock price implies a relatively low valuation and prices-in a lot of negative sentiment, which seems like a good recipe for future gains.
Disclaimer: The opinions expressed above should not be construed as investment advice. This article is not tailored to specific investment objectives. Reliance on this information for the purpose of buying the securities to which this information relates may expose a person to significant risk. The information contained in this article is not intended to make any offer, inducement, invitation or commitment to purchase, subscribe to, provide or sell any securities, service or product or to provide any recommendations on which one should rely for financial, securities, investment or other advice or to take any decision. Readers are encouraged to seek individual advice from their personal, financial, legal and other advisers before making any investment or financial decisions or purchasing any financial, securities or investment related service or product.
Information provided, whether charts or any other statements regarding market, real estate or other financial information, is obtained from sources which we and our suppliers believe reliable, but we do not warrant or guarantee the timeliness or accuracy of this information. Nothing in this article should be interpreted to state or imply that past results are an indication of future performance.
THERE ARE NO WARRANTIES EXPRESSED OR IMPLIED AS TO ACCURACY, TIMELINESS, COMPLETENESS, OR RESULTS OBTAINED FROM ANY INFORMATION IN THIS ARTICLE OR ANY LINKED WEBSITE.
Disclosure: I am long AAPL, GOOG. I wrote this article myself, and it expresses my own opinions. I am not receiving compensation for it (other than from Seeking Alpha). I have no business relationship with any company whose stock is mentioned in this article.
Additional disclosure: I may trade any of the securities mentioned in this article at any time, including in the next 72 hours. I am long AAPL through call options.