Medical Marijuana, Inc. (OTCPK:MJNA) was the victim of a short attack on Friday the 15th of February. The stock had experienced a significant rally since the news started to leak about new legislation being introduced to remove restrictions against marijuana at the federal level. As a small cap stock that many were starting to believe had become overvalued, Medical Marijuana must have seemed ripe for picking for those wishing to short the stock. Shorting is not necessarily a bad thing, as it tends to provide balance to the market by allowing different opinions on the value of a security to be considered and profited on. A short attack is something different.
A short attack is an organized attempt to mislead the public by creating fear and panic through the introduction of information that confusing and seemingly material to the health of the target organization. The goal is to prompt investors to sell their positions in a stock and in doing so, drive down the price of the security so that those that are short the stock can realize more profit. The perpetrators of short attacks feed on the reaction of retail investors that no longer trust that the real growth potential of a company will be reflected in the stock price.
Some say that there is no difference in someone shorting and voicing their opinions about a stock or someone buying and pumping a stock. I would not argue this point, but I would argue that short attacks are different in that they are predatory, cowardly and often criminal.
Shorting a stock is a little more risky than the traditional trade or long-position purchase of a security in which you expect the security to increase in value. When shorting a stock, the potential losses are considered to be unlimited as there no established limit on how high any stock's price can go. The implied ceiling on a stock is what someone is willing to pay for it, which does not have a definitive definition.
So to compensate for the additional risk, some have become organized and some have even advanced that organization to manipulation. This is a risk and reward business, so the more risk you take on and can successfully manage the more money you will make. But greed moves the less ethical to forget that they need to be responsible custodians of fair and factual investment information and practices.
The attack on Medical Marijuana was pathetic. I say this because; first Medical Marijuana had been openly communicating and successfully implementing their desire to bring transparency to their financials with the ultimate goal of up-listing their stock. Second, they are a profitable company in an industry that is in its infancy. And the third and the most pathetic reason is that the executives of the organization were the subjects of personal attacks by individuals who chose to hide their own identities.
I'm not naive; we want the leaders of the organizations that we invest in to be of strong moral character and values. I personally have confidence in the leaders of Medical Marijuana and part of that confidence is derived from the fact that I understand that these are leaders, pioneers and entrepreneurs of an industry that requires the guts to maverick federal law. And with that understanding, I also like that they are seeking transparency. What I don't like perpetrators like Infitialis who attack others while trying to hide behind a façade of credibility.
Does anyone know who the people are behind "Infitialis"? Does it seem odd that they can tell you who the bad people are and what to think without taking any personal responsibility? Does it seem odd that they can claim credibility without letting you know who they are? Does it seem odd that a seemingly focused bunch of people began to post supporting comments right after an article from an anonymous stock shorter was released? Pay attention because the character of those posters should forever be in question.
They ask you as investors to prove that they, as anonymous authors, are wrong in their discoveries. Seriously, they ask you to verify all of the accusations for yourself. They know most won't do it because they don't have the time. Heck, they didn't have the time as demonstrated by their retractions. Who would you rather trust, Michelle Sides, a law school graduate, Chairman and Chief Operating Officer of a public company who is actively pursuing more financial transparency or Infitialis, a fictitious entity created by anonymous posters.
It will be interesting to see the reply from Medical Marijuana. There already appears to be responses from the CEO on Investor Hub. The responses are listed below buy may not be in chronological order:
"As Chairman and COO, I can understand the doubt that I am on this board - and I assure you, I have never posted, but I do read what others have to say about our company and we are grateful for the continued support. However, I am not able to let that article just remain without defending myself and this company. We have worked incredibly hard to build a company we are very proud of and I will not let some shady broker or competitor trying to short our stock get away with those criminal actions. Once we have our direction from the litigation counsel - I will post it on our website to keep you updated.
My contact information is also on this board, as well as our website and OTC so anyone is welcome to contact me at anytime.
Have a great weekend,
Michelle Sides "
"MJNA: CEO's response:
MSidesMJNA Friday, February 15, 2013 6:13:38 PM
Re: None Post # of 79588
Personal THANK YOU to the Supporters. I, Michelle Sides, Chairman and COO of MJNA - absolutely NOT the one who was referred to in the highly defamatory article, wanted to say thank you for your support in this personal attack against me and MJNA.
Although I appreciate the retraction Mr. Alpha, the damage was done and you accomplished your criminal goal. Now, you will deal with the consequences of those actions from me, the litigation attorneys, the SEC and from the sounds of it a few hundred of my highly intelligent shareholders who saw this for what it was, so by all means, I hope you enjoyed your 5 minutes of fame this morning.
Nonetheless, I wanted to personally say THANK YOU for everyone who has been supportive not just today but since the beginning. We are incredibly proud of MJNA, what we have accomplished and where we are headed. So again, thank you.
Michelle Sides"
While I can't be certain the messages came from Ms. Sides, it does sound like a response that would have come from her. If, in fact, these messages are from her, it sounds as though she is ready to defend herself and company using the appropriate legal channels. The second response prompted the removal of a picture of a woman with the label "Convicted Criminal" in red across the bottom of the photo. The picture still shows up on the mobile version when I view it with my cell phone.
Can you believe that they plastered the wrong picture across their article? I think I understand now why they remained anonymous. But with that type of mistake, the identification of the authors and legal ramifications can't be avoided. Ordinarily I would think that this was the work of teenagers. But after reviewing the timing and names of the list of supporters in the comments section of Infitialis article, I am convinced that this was an organized attack.
Also, beware of those that offer follow-on published material and claim to have no position in the stock. I was sent an email asking if I was willing to accept compensation to publish articles written by someone else for an "investor". They wanted to know if I could do it by Monday. I politely refused. So beware of those claiming to save you from the world as they are most likely just trying to line their pockets at your expense.
Medical Marijuana is a real company that is selling real products. I received the below advertisement on the 14th of February. So not only are they real, they are marketing to the masses.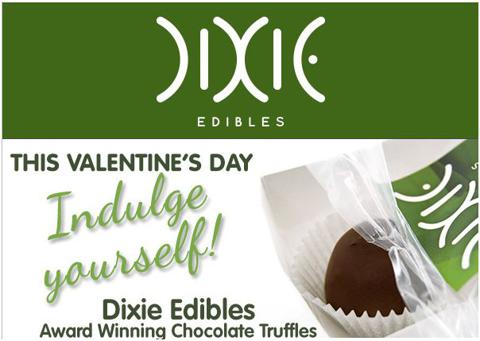 In my previous articles listed below, I offer some perspective about the company"
I also offered the financial projections listed below:

Investing in small cap stocks is inherently risky because of the associated volatility. They are also subject manipulation by those who prey on the reaction of investors to misinformation. But companies can defend themselves and rise above the greed and cowardly acts of the perpetrators of attacks on pioneering enterprises. Someone has already posted a rebuttal to the accusations made by Infitialis. It may have come from Medical Marijuana, but I cannot confirm the source at this time. But regardless of the source, the response clearly demonstrates how the information about Medical Marijuana's leadership was manipulated.
As an investor, I am actually more concerned with the company's future as that is what the value of an investment should be based on. Another red flag to the lack of Infitialis' creditability was that they completely ignored all the great work that's being done by Tripp Keber. Tripp has been out front in spreading information about all the positive things that the company is doing to grow. Medical Marijuana is a profitable company that is well positioned to take advantage of an industry that is on the verge of explosive growth as legislative hurdles are overcome. There will be many that try and take advantage of investors as this growth materializes, so make your investment decisions wisely when these anonymous "hit pieces" come out.
Disclosure: I am long OTCPK:MJNA. I wrote this article myself, and it expresses my own opinions. I am not receiving compensation for it (other than from Seeking Alpha). I have no business relationship with any company whose stock is mentioned in this article.