Apple is like titanic. Too many people jumped on the ship because everybody thought that this was the dream ship that would take everyone to beautiful new places. But now the ship is sinking because the reality is kicking in.
As for the stock price, all the investors who purchased Apple stock in waves since the hype was created, starting to sell in waves as well. 30 percent of Buyers at $700 started selling at $600 rest of them continue selling as the stock falls down more. Some loyal apple fans will probably tolerate this fall until they are 50 percent at lost with the hope that the company will recover which in my opinion is a dummy hope. When you make profit, you take it. At the end, it's your money. You don't want to take 70% loss, cause it could happen to you. Just sell now and when you feel comfortable about the bottom maybe you can buy it then (if Apple can still create better products without Steve Jobs). The truth is Apple is NOT going to be able to develop any substantial product by this Christmas. It might take a year or even more.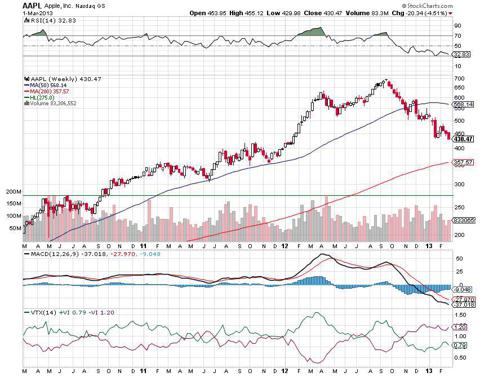 Anyway, let's talk technical. Looking at the Vortex Index at the "weekly" 3 year chart, you can see that +VI (green) is constantly moving down, unstoppable. After peaking at mid March 2012 and peaking again but artificially (short sale manipulation) in September 2012, Vortex is index near opposite of 2011 March levels and it has a year more declining to go until it reaching a new opposite peak and starts reversing. With gradual declines, we shall see $275 as the true support level. I would say we will have some support at 200 average of $350 +- 20 points tolerance and 12-20 weeks of sideways trend and drop again and drop again. Same thing is happening to Google. Very Soon Google will drop like a brick like Apple did. Perfect area to short GOOG is 820-850 range but it's risky to wait. I would definitely discourage you to buy GOOG. That would not be smart. Take your profit while you have it. Do not be greedy.
It might take Apple two years to recover, but the problem is competitors are getting stronger and better. They will not let Apple succeed again. Apple cannot stick to the market because it doesn't have strong backbone like Microsoft has with business. Windows 9 will be out in 2015. Microsoft will release new products and software. Microsoft is releasing products that will make business more mobile such as Office 365 that only works on Windows, not Apple, not Android. Office 365 is a true application not an HTML editor like Google Docs. Google on the other hand relies on it's search engine dominance and of course it's stolen java platform called Android. It's low-cost hardware is going to be revenue trouble for Google soon and it won't be able to stick to market anymore once Windows 8 tablets starts spreading with more sticky and reliable platform and applications. Windows 8 search engine is a new way of searching true content. Users will eventually learn this potential and stop using browser search or browser at all.
My Advice:
Sell and Short Apple, Sell and Super Short Google at 830 +- 20. Buy Microsoft after 3 months.
Thanks