China Sanjiang Fine Chemicals, a rare gem with 100% upside.
If you know about China and ethylene oxide you know about Sinopec (NYSE:SHI) and PetroChina (NYSE:PTR). However, the third player is a company called China Sanjiang Fine Chemicals (after this called SFC) and it is the largest privately-owned manufacturer and supplier of ethylene oxide (EO) and AEO surfactants in China. These 3 hold the main EO market in China.
Ethylene oxide is used in products like antifreeze, cosmetics, lubricants, paint solvents, detergents, soaps, natural gas purification and a variety of other products.
In light of the last profit warning given by SFC I would like to shed additional information about why this still could be a fine gem for the value investor.
A little bit over a month ago SFC reported that its net profit attributable to equity holders of the company will decrease substantially by more than 50% as compared to the net profit attributable to equity holders of the company for the 6 months that ended June 2013. Main reason given, average selling price of their foremost product dropped approximately 8%. They are currently cruising 1 dollar lower per share since last year as seen in the figure below.
Figure: Share price SFC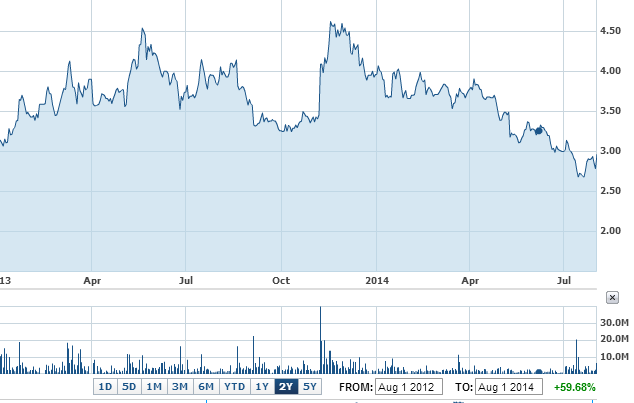 However, for anyone who was up to date with SFC knew this was coming. There is nothing new under the sun. They mentioned in the annual report of 2012 and 2013 a few reasons of concern in regards of the pricing of ethylene oxide and they adapted sufficient steps in those years to diminish the inevitable pain of volatility swings within those price levels. These plans come into effect end 2014/Q1 2015 which makes current times a good moment to step into SFC.
Figure 1: Revenue SFC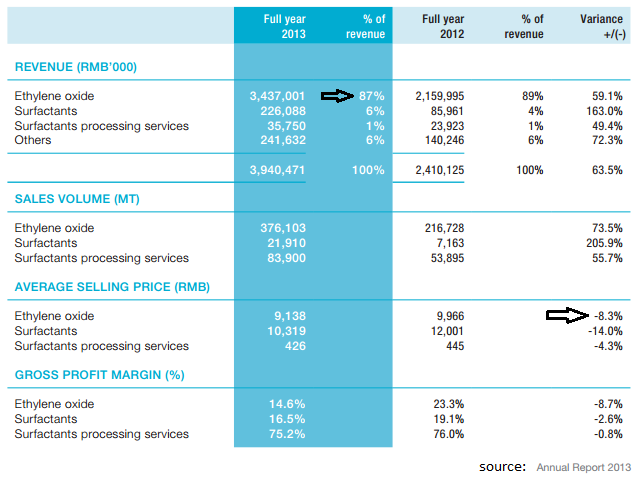 As shown in figure 1, SFC has a main dependency on ethylene oxide (87%) while the main price of their product dropped 8.3%.
In 2012, as I told before the expectation was that the price of ethylene oxide could be an issue in the future therefore they switched additional focus towards building an upstream methanol-to-olefin (MTO) production facility to produce ethylene and propylene. This will give them the chance to diversify their product lines and since ethylene is the core feedstock of EO, it will secure several cost advantages. The construction of the production facility will be finished December 2014 and come into effect Q1 2015. By diversifying products to the propylene derivatives group it will lower pressure on the dependency of EO. Furthermore due to economies of scale, their dependency on the price of EO will lower. This is all good news.
The Ethylene Oxide market
The EO industry in China is oligopolistic. The main 2 producers of EO are state-owned, $SHI and $PTR. SFC is the third largest producer of EO.
Entry to this market is relatively difficult. Production cost to set up a facility are expensive and considering EO is a difficult to transport good (due to its combustible nature) international trade is unlikely and main clients are often located close to the position of the plant.
So where could growth come from?
(click to enlarge)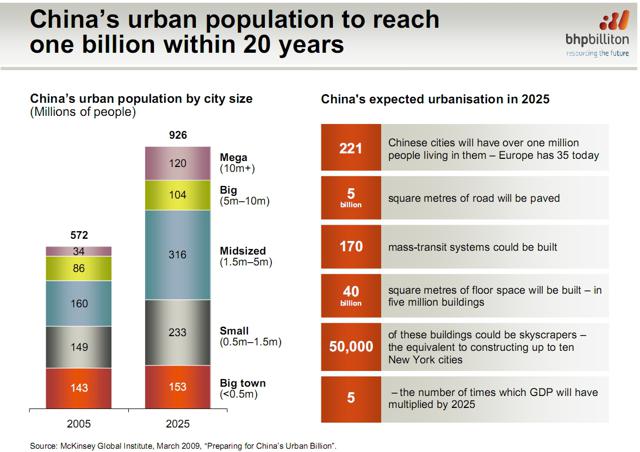 Click to enlarge
One possible answer is urbanization as China is undergoing that rapidly. The effects of this could have massive impact on the economy of China and this will go hand in hand with growing demand of cleaner and detergent products of which the main ingredient is EO, the product of SFC.
Risks?
There are obviously many risks involved. Considering it's a state regulated market, you never know when the Chinese Government might tamper with regulations which could offset some pull backs for SFC.
It has a short listed history on the stock market and is not widely covered by analysts. Therefore it will take you, as investor, more time to do hands on research about this company.
Another risk is the small number of suppliers of ethylene which predominantly come from Japan. This risk will hopefully be mitigated by the new production facility plant.
It has a low P/E valuation. But what is low? It's not listed on any Western index and it's difficult to compare with other EO players. Funding of/by companies on the HK index seem to be quite adequate and better regulated and definitely a lot more safe than the Chinese counterparts in America who are listed on the NASDAQ where debt issues are a lot more severe.
State owned parties are setting the price. It's difficult to compete in such an oligopolistic market.
Additionally, since it's a Hong Kong based stock, one might consider that a risk as it's an investment in HK Dollars. However, I do believe that Chinese stocks listed in Hong Kong have a preference above the Chinese stocks listed on the NASDAQ due to stricter regulatory rules.
Shareholders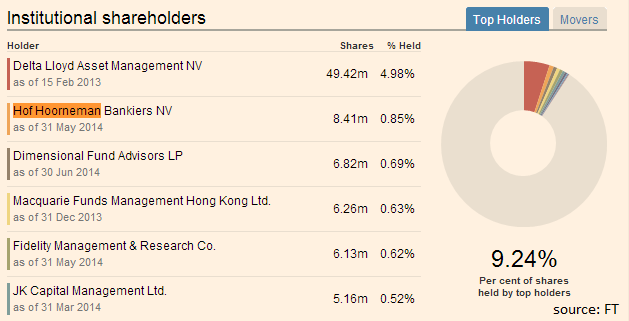 The main 2 holders in SFC are Delta Lloyd, a big Dutch Insurer and Hof Hoorneman Bankiers, a Dutch fund management party. It's part of Hof Hoornemans China Value fund.
This also adds to my previous assumption that SFC does not get a lot of coverage, as I'm not sure why these Dutch institutions seem to have a majority interest in this stock.
Management
Considering its origins, it's always good to know whether your investment is in safe hands. I have had a variety of experiences when it comes to Chinese management and that was not always positive. The last one being (NASDAQ:CXDC) which smelled a bit off…
Although difficult to assess and compare, I find the management team convincing and most importantly honest. The man in charge has quite the experience in this field. Some of the reasons why the shares plummeted where mentioned by SFC ahead of time and a well experienced reader would also have read the precautions SFC took to lower the pressure on their books. In that case for the true value investor it was a simple accumulate opportunity by every major drop as I'm sure SFC will pay off in the foreseeable future.
Financial Metrics
Let's delve in the financial numbers of this Chinese Chemical operator.
| | | | | | |
| --- | --- | --- | --- | --- | --- |
| Financials | 2009 | 2010 | 2011 | 2012 | 2013 |
| Revenue | 1286.00 | 1583.00 | 2078.00 | 2521.00 | 3940.00 |
| increase yoy | n/a | 23.1% | 31.3% | 21.3% | 56.3% |
| Gross profit | 356.00 | 360.00 | 433.00 | 530.00 | 638.00 |
| increase yoy | n/a | 1.1% | 20.3% | 22.4% | 20.4% |
| Operating income | 316.00 | 288.00 | 353.00 | 377.00 | 485.00 |
| increase yoy | n/a | -8.9% | 22.6% | 6.8% | 28.6% |
| Interest Expense | 33.00 | 19.00 | 32.00 | 64.00 | 75.00 |
| increase yoy | n/a | -42.4% | 68.4% | 100.0% | 17.2% |
| Income before taxes | 304.00 | 319.00 | 464.00 | 557.00 | 686.00 |
| increase yoy | n/a | 4.9% | 45.5% | 20.0% | 23.2% |
| Net income | 260.00 | 266.00 | 405.00 | 467.00 | 605.00 |
| increase yoy | n/a | 2.3% | 52.3% | 15.3% | 29.6% |
| Net income available to common shareholders | 242.00 | 266.00 | 405.00 | 467.00 | 605.00 |
| increase yoy | n/a | 9.9% | 52.3% | 15.3% | 29.6% |
| EPS | 0.37 | 0.35 | 0.40 | 0.47 | 0.61 |
| increase yoy | n/a | -5.4% | 14.3% | 17.5% | 29.8% |
| EBITDA | 417.00 | 410.00 | 588.00 | 726.00 | 927.00 |
| increase yoy | n/a | -1.7% | 43.4% | 23.5% | 27.7% |
| Source: Annual Report SFC 13' |   |   |   |   |   |
SFC has been growing significantly year over year in an expanding market and shows a great deal of resilience in their numbers. Excess demand in EO will continue to let revenues grow and more importantly remain margin to a certain extent.
SFC has been able to manage its risk accordingly and in my opinion its ability to mitigate risk has been misunderstood by other investors.
In regards of valuation, they currently show a P/E value of 2.97/0.61 = 4.86. Although their gearing has increased the last few years it's important to keep in mind that there is a significant lag between investment in the production facility and the ability to generate cash flow which might dilute the actual figures at the moment. It won't start until end Q4/2014.
If we assume EPS to increase the same as it did the last few years (although 2014 will be a significantly more difficult year) their EPS could be 0.80 for the year of 2015. That's a 30% growth over 2 years. Keeping P/E at 5 would justify a stock price at 6.25. Its current price is 2.97 and that would show over a 100% potential within the end of 2015. I think that lies within potential of this stock.
Valuation with other stocks goes blank as the main 2 competitors are state owned and therefore lack the potential
Let's say their earnings get cut in half. That would put their current P/E at 2.97/0.31 = 9.5 Keeping a in par expectation of growth with their EPS like before of 30% would generate an EPS of 0.403 that would justify a share price of 3.83, still 30% higher than its current share price.
Their NAV would note around 3.03. They currently trade a little under discount in that sense.
I'm always skeptic when it comes to EV/EBITDA & P/E values, but intrinsically SFC does note under discount. Time will tell how it looks like Q1 2015.
Conclusion
SFC is an undervalued stock if we expect earnings to be in line and grow the moment the new facility comes into place. This will not only generate new revenue and income but also lower risks which were mentioned before. It currently already has a low valuation. They have been honest and fair about the upcoming issues for years and showed great business skills by starting to build the MTO facility far ahead of time which will lower their dependency on EO in the end of 2014/Q1 2015. They are uniquely positioned in an expanding business. Their growth has been solid for years and it's only a matter of time before the returns will head in the right direction.
Although considered a risky investment, as with every Chinese stock, the potential upswing with SFC is undeniable great.
Main risk in my opinion is the margin trouble on ethylene oxide. However I never said it was a safe bet. However the upside is bigger in comparison to the downside. And therefore as a risky investor, SFC is a good bet.
I'm sure SFC will double before the end of 2015. However, before that happens, don't be surprised if SFC might cruise a little lower before it turns the tables.