SunEdison, Inc. (NYSE:SUNE)
SUNE surged $1.88 (or +17.62%) to $12.55, a total of 17,252,403 shares exchanged hands on Friday.
SUNE recently reported that it had secured R1.8 billion (US$185 million) in foreign debt funding from the Overseas Private Investment Corporation. This amounts to 75% of the R2.4 billion project cost for the Boshof Solar Park Project, located in South Africa's Free State province near Kimberley.
Electricity generated by Boshof, with an installed capacity of 60MW AC, will feed into the South African grid, under the terms of a 20-year power purchase and implementation agreement signed with national power utility Eskom and the Department of Energy.
Boshof is the first project in South Africa's Renewable Energy Independent Power Producer Programme to be supplied by a local South African majority-owned photovoltaic (PV) module manufacturer. SUNE will maintain a 51% ownership stake in the project, with South African companies holding the remaining 49%.
SUNE recently posted a far better third quarter 2013 financial results than the market had anticipated, thanks to a boost from its solar business.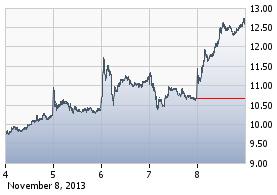 SUNE is a global leader in semiconductor and solar technology.
SUNE's semiconductor business has been a pioneer in the design and development of silicon wafer technologies for over 50 years. With R&D and manufacturing facilities in the US, Europe and Asia, SUNE enables the next generation of high performance semiconductor devices.
SUNE's solar business develops, finances, installs and operates power plants, delivering predictably priced solar energy and services for commercial, government and utility customers.
More about SunEdison, Inc. (NYSE:SUNE) at www.sunedison.com
**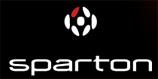 Sparton Corp. (NYSE:SPA)
The price of SPA stock jumped $1.84 (or +7.57%) with a volume of 58,278 shares on Friday's trading session.
On its first quarter fiscal 2014, SPA posted sales of $74.2 million, a 46% increase year over year, and net income of $2.3 million or $0.23 per share, basic and diluted compared to $1.5 million, or $0.14 per share, basic and diluted in the same period the prior year, while its EBITDA increased 101% to $5.5 million or 7.3% of sales as compared to $2.7 million or 5.4% of sales in the first quarter fiscal 2013.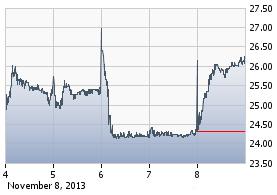 SPA is a provider of complex and sophisticated electromechanical devices with capabilities that include concept development, industrial design, design and manufacturing engineering, production, distribution, and field service. The primary market classifications served are Navigation & Exploration, Defense & Security, Medical, and Complex Systems.
More about Sparton Corp. (NYSE:SPA) at www.sparton.com.
**
Read full disclaimer at www.doubleinstocks.com/disclaimer
Disclosure: I have no positions in any stocks mentioned, and no plans to initiate any positions within the next 72 hours.