Aspen Insurance Holdings Ltd. (NYSE:AHL)
AHL stock surged $0.64 (or +1.65%) to $39.51 and 1,486,480 shares exchanged hands on Friday's market activity.
AHL was upgraded from Neutral to Buy with price target of $46 by brokerage firm UBS.
AHL recently reported net income after tax of $107.4 million, or $1.43 diluted net income per share, for the third quarter of 2013.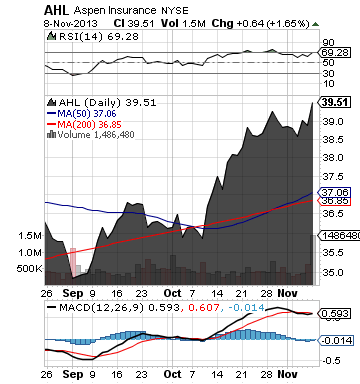 AHL provides reinsurance and insurance coverage to clients in various domestic and global markets through wholly-owned subsidiaries and offices in Bermuda, France, Germany, Ireland, Singapore, Switzerland, the United Kingdom and the United States.
More about Aspen Insurance Holdings Ltd. (NYSE:AHL) at www.aspen.co.
**
**

Intrexon Corporation (NYSE:XON)
Shares of XON jumped $1.68 (or +9.52%) to $19.33, after the company reported strong performance in its financial results compared with last year.
For the third quarter 2013, XON posted total revenues of $6.1 million, an increase of 109.7% compared to $2.9 million in the same period the prior year, and net income attributable to XON of $15.4 million, or $0.15 cents per common share, compared to a net loss of $20.5 million for the third quarter 2012.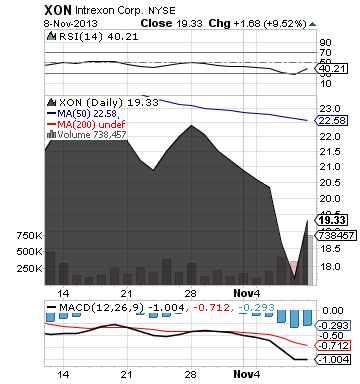 XON is a leader in synthetic biology focused on collaborating with companies in Health, Food, Energy and the Environment to create biologically-based products that improve the quality of life and the health of the planet. Through the company's proprietary UltraVector(NYSE:R) platform, which delivers unprecedented control over the quality, function, and performance of living cells, XON provides its partners with industrial-scale design and development of complex biological systems. XON calls its synthetic biology approach and integrated technologies Better DNA(R).
More about Intrexon Corporation (NYSE:XON) at www.dna.com.
**
Read Full Disclaimer at www.drstockpick.com/disclaimer
Disclosure: I have no positions in any stocks mentioned, and no plans to initiate any positions within the next 72 hours.