Amira Nature Foods Ltd. (NYSE:ANFI)
ANFI reported strong financial results, reflecting its ability to consistently add new customers in India and internationally, enter new markets as well as the continued growing demand for its premium product offerings.
On its second quarter fiscal 2014, ANFI posted revenue of $108.0 million, a 36.1% increase year over year, and profit after tax of $6.3 million, a 90% increase compared to $3.3 million in the same period the prior year.
ANFI reiterates its previously issued guidance and continues to expect full year fiscal 2014 revenue in the range of $480 million to $507 million and EBITDA in the range of $62 million to $66 million (based on foreign exchange rates as of September 30, 2013). This is in line with long-term guidance previously provided to the investment community in connection with ANFI's initial public offering.
Shares of ANFI closed at $14.80 on Monday's trading session.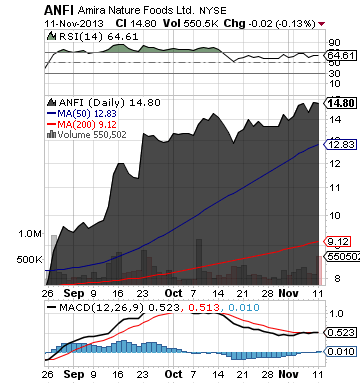 ANFI sells Basmati rice, a premium long-grain rice grown only in certain regions of the Indian sub-continent, under their flagship Amira brand as well as under other third party brands. ANFI sells its products primarily in emerging markets through a broad distribution network.
More about Amira Nature Foods Ltd. (NYSE:ANFI) at www.amirafoods.com.
**

MediciNova, Inc. (Nasdaq:MNOV)
Irritable bowel syndrome is a functional gastrointestinal disorder; it causes cramping, abdominal pain, bloating gas, diarrhea and constipation.
Irritable bowel syndrome is estimated to affect 10 to 15 percent of the population.
MNOV reported that a new U.S. patent has been granted which covers MN-221 in the treatment of irritable bowel syndrome.
The new patent (U.S. Patent No. 8,518,995) will expire no earlier than April 2031. The claims cover a method for treatment of irritable bowel syndrome using certain compounds including MN-221. The claims cover various routes of administration including oral, injectable and transdermal.
MNOV stock closed at $2.17, representing an increase of $0.02 (or +0.93%).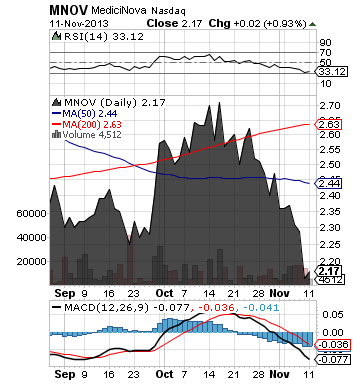 MNOV is a biopharmaceutical company founded upon acquiring and developing novel, small-molecule therapeutics for the treatment of diseases with unmet medical needs with a commercial focus on the U.S. market.
More about MediciNova, Inc. (Nasdaq:MNOV) at www.medicinova.com.
**
Read Full Disclaimer at www.drstockpick.com/disclaimer
Disclosure: I have no positions in any stocks mentioned, and no plans to initiate any positions within the next 72 hours.