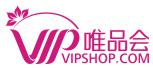 Vipshop Holdings Limited (NYSE:VIPS)
The price of VIPS stock jumped $11.16 (or +15.22%) to $84.48, with a volume of 2,567,719 shares on Tuesday's trading session. The company delivered solid financial and operational results.
For the third quarter 2013, VIPS posted total net revenues of US$383.7 million, a 146.1% increase year over year, primarily driven by growth in the number of active customers and total orders, gross profit of US$93.0 million, a 167.4% increase compared to the same period the prior year, and net income of US$12.0 million, compared to a net loss of US$1.5 million in the third quarter 2012.
According to its business outlook, for the fourth quarter 2013 VIPS expects its total net revenues to be between US$580 million and US$590 million, representing a year-over-year growth rate of approximately 94% to 97%.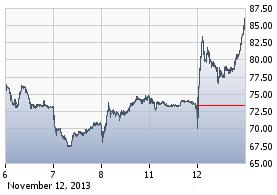 VIPS is China's leading online discount retailer for brands. VIPS offers high quality and popular branded products to consumers throughout China at a significant discount to retail prices.
More about Vipshop Holdings Limited (NYSE:VIPS) at www.vipshop.com
**
On Track Innovations Ltd. (Nasdaq:OTIV)
OTIV surged $0.42 (or +23.33%) to $2.22, and 2,703,419 of its shares exchanged hands during the market activity.
OTIV reported that its wholly owned subsidiary OTI Africa recently received initial purchase orders for its EasyFuel Plus solution from customers, including a major global supply chain customer valued at more than $1 million.
The orders follow a successful pilot deployment of the EasyFuel Plus solution in the Middle East. The major deployment will be in a new country for EasyFuel, bringing the total number of countries where EasyFuel is being used to 43. The solution includes OTIV's Packaged Mobile Bowser and Home Base offerings.
EasyFuel Plus is a comprehensive petroleum payment and overall fuel management solution for oil companies, fleets, and retail customers on the same infrastructure.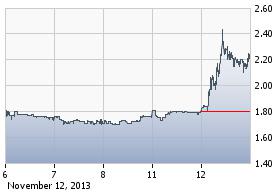 OTIV is a leader in contactless and NFC applications based on its extensive patent and IP portfolio. OTIV's field-proven innovations have been deployed around the world to address NFC payment solutions, petroleum payment and management, cashless parking fee collection systems and mass transit ticketing.
More about On Track Innovations Ltd. (Nasdaq:OTIV) at www.otiglobal.com
**
Read full disclaimer at www.mikezaman.com/disclaimer
Disclosure: I have no positions in any stocks mentioned, and no plans to initiate any positions within the next 72 hours.