InterCloud Systems, Inc. (NASDAQ:ICLD)
The price of ICLD stock soared for second trading session in a row on Monday's market activity.
ICLD reported strong performance for the third quarter 2013, with revenue of $16.2 million, increased 448% year over year, gross profit of $5.5 million, compared to $1.2 million in the same period the prior year, and net income of $1.3 million, or $0.26 basic earnings per share, and $0.12 diluted earnings per share, compared to a net loss of $0.8 million, or ($2.16) per share, in the third quarter of 2012.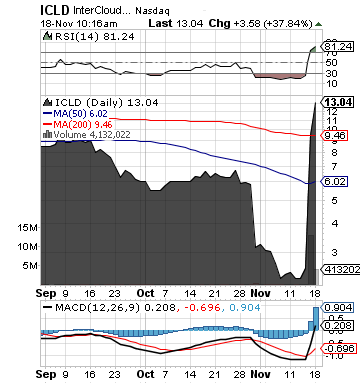 ICLD is a global single-source provider of value-added IT and telecom solutions for both corporate enterprises and service providers.
More about InterCloud Systems, Inc. (ICLD) at www.intercloudsys.com.
**

Ikanos Communications, Inc. (NASDAQ:IKAN)
IKAN was upgraded from Hold to Buy and price target of $1.70 by brokerage firm Needham..
IKAN also reported that a tier-one OEM has selected the latest member of the Ikanos Velocity(NYSE:R) processor family, Velocity(NYSE:TM)-Uni, for its next-generation Passive Optical Network (PON) Optical Network Terminal (ONT) targeting FTTdp deployments.
This is IKAN's first tier-one design win for Velocity(TM)-Uni only a few weeks after its official launch at this year's Broadband World Forum in Amsterdam.
Recently, IKAN closed its underwritten public offering of 25,000,000 shares of its common stock at a price to the public of $1.00 per share, with net proceeds of approximately $22.7 million, after deducting the underwriting discount and estimated offering expenses.
IKAN intends to use the net proceeds of the offering for working capital and general corporate purposes and for capital expenditures. In addition, IKAN may use a portion of the net proceeds for acquisitions of complementary businesses, technologies or other assets.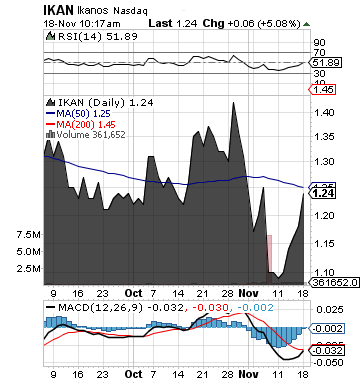 IKAN is a leading provider of advanced broadband semiconductor and integrated software products for the digital home.
More about Ikanos Communications, Inc. (IKAN) at www.ikanos.com
**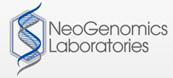 Neogenomics Inc. (NASDAQ:NEO)
Covance Inc., one of the world's largest and most comprehensive drug-development services companies, and NEO reported a strategic collaboration to jointly provide anatomic pathology and specialty laboratory testing services for global clinical trials.
Covance will establish a laboratory at NEO's Fort Myers, Fla. facility and, together with NEO, will provide a full range of APH, tissue-based biomarkers and other specialty testing services. The companies will then expand joint capabilities globally at Covance's central laboratory locations in Shanghai, China; Geneva, Switzerland; and Singapore.
As part of the alliance, Covance will have access to NEO's extensive medical and scientific networks, which includes more than 500 pathologists. NEO gains access to Covance's broad market reach, established client relationships, and extensive clinical trials experience.
The alliance will provide seamless global testing services supporting oncology and companion diagnostics strategies for biopharmaceutical firms around the world.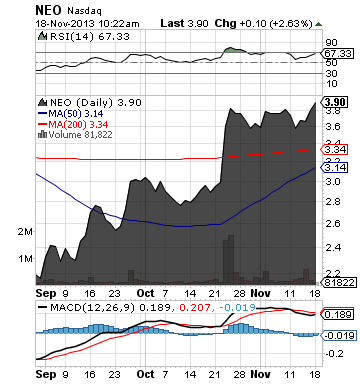 NEO is a high-complexity CLIA-certified clinical laboratory that specializes in cancer-focused genetic and molecular testing services. NEO's testing services include cytogenetics, fluorescence in-situ hybridization, flow cytometry, immunohistochemistry, anatomic pathology and molecular genetic testing.
More about Neogenomics Inc. (NEO) at www.neogenomics.com.
**
Read Full Disclaimer at pennyomega.com/disclaimer
Disclosure: I have no positions in any stocks mentioned, and no plans to initiate any positions within the next 72 hours.