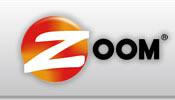 The trading levels of Zoom Technologies, Inc. (ZOOM) stock exploded on Black Friday's trading session, after the company reported that it has entered into a Letter of Intent (LOI) with Beijing Baifen Tonglian Information & Technology Co., Ltd. ("Baifen") to acquire, directly or indirectly, all the outstanding shares of Baifen, one of China's leading providers of mobile advertising services..
In connection with this transaction, ZOOM will issue to Baifen's shareholders 12 million new shares of the Company's common stock representing approximately 80% of ZOOM's ownership interest post-transaction. The transaction is subject to shareholders approvals by both parties and other closing conditions.
There is no assurance that the proposed transaction will be consummated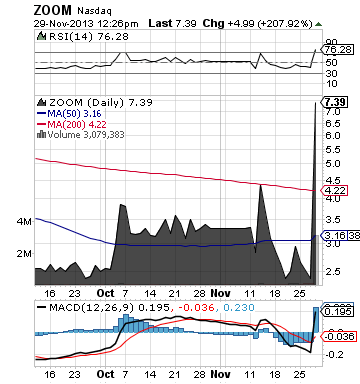 ZOOM is a holding company with a subsidiary in the U.S., Portables Unlimited LLC, which is a distributor of T-Mobile USA products and services that manages over 100 exclusive T-Mobile retails locations throughout the U.S. and also distributors products to over 1,000 multi-carrier mobile phone retail stores.
More about Zoom Technologies, Inc. (Nasdaq:ZOOM) at www.zoom.com
**

Shares of China Ming Yang Wind Power Group Limited (NYSE:MY) skyrocketed on Black Friday's market activity after the company reported that its subsidiary, Guangdong Mingyang Wind Power Group Limited, has signed a framework agreement with Speranta & Succesul S.A., a leading renewable energy developer in Romania.
The Agreement , which covers wind farm development, supply of EPC services and equipment procurement of a 200MW wind farm project, marks an important strategic milestone in the joint cooperation in connection with the energy project development between China and Romania.
The total level of investment for this wind farm project is approximately EUR400 million, and the project is expected to utilize MY's innovative 2.0MW large rotor diameter wind turbine generators.
It is reported to be the largest Chinese wind turbine generator export order to date, according to the relevant industry news in China.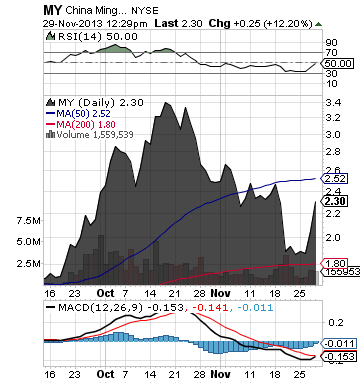 MY is a leading wind turbine manufacturer and a renewable energy solution provider.
More about China Ming Yang Wind Power Group Limited (MY) at www.mywind.com.cn/English/index.aspx
**
Note: Black Friday is the Friday following Thanksgiving Day in the United States, often regarded as the beginning of the Christmas shopping season.
**
Read Full Disclaimer at www.pennyomega.com/disclaimer
Disclosure: I have no positions in any stocks mentioned, and no plans to initiate any positions within the next 72 hours.