Shares of Galectin Therapeutics, Inc. (NASDAQ:GALT) soared on Tuesday's market activity. GALT was initiated with a Buy and price target of $20.00 by brokerage firm MLV & Co.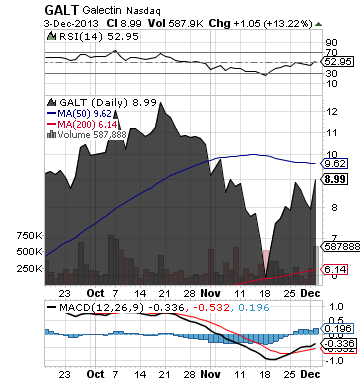 GALT is developing promising carbohydrate-based therapies for the treatment of fibrotic liver disease and cancer based on GALT's unique understanding of galectin proteins, key mediators of biologic function.
More about Galectin Therapeutics, Inc. (GALT) at www.galectintherapeutics.com.
**

The price of InterCloud Systems, Inc. (NASDAQ:ICLD) stock skyrocketed on Tuesday's trading session, after the company reported that using proceeds received as a result of investors exercising warrants issued in its recent public offering, and with the consent of its senior lender, ICLD has been able to redeem and cancel $3 million worth of its Series F Preferred Stock.
According to ICLD, it has eliminated nearly $10 million in liabilities from its balance sheet since the end of the third quarter, while raising $5.7 million in the public capital markets, and have strengthened its capabilities for future growth in the process.
Furthermore, ICLD's subsidiary TNS, Inc. revenues for the twelve month period following its acquisition by ICLD have increased by approximately 60%, from $3.1 million to $4.9 million, with a corresponding increase in net income of $0.8 million to $1.0 million, from $0.2 million for the twelve month period ended September 30, 2012.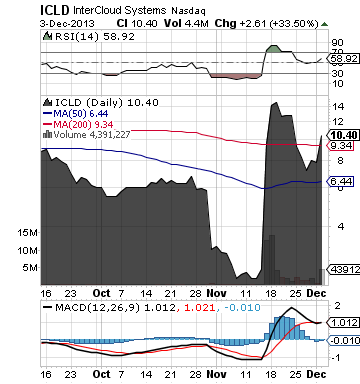 ICLD is a global single-source provider of value-added services for both corporate enterprises and service providers.
More about InterCloud Systems, Inc. (ICLD) at www.intercloudsys.com.
**
Disclaimer: DrStockPick.com publisher and its affiliates and contractors are not a registered investment advisors and nothing contained in any materials should be construed as a recommendation to buy or sell securities. DrStockPick.com encourages readers and investors to supplement the information in this article with independent research and other professional advice. DrStockPick.com is owned by Crown Equity Holdings Inc. (OTCPK:CRWE). Our disclaimer is to be read and fully understood before using our site, reading our newsletter or joining our email list. As such, in some cases, when Crown Equity Holdings Inc. advertises for a particular client, the company charges an advertising fee which it must disclose under 17B. The fee may be in cash, in free trading stock or in restricted stock. Read compensation disclosure (if) and full disclaimer at www.DrStockPick.com/disclaimer
Disclosure: I have no positions in any stocks mentioned, and no plans to initiate any positions within the next 72 hours.