ZBB Energy Corp. (ZBB)
Shares of ZBB skyrocketed after the company reported that it has entered into a new product development partnership and expanded license agreement with Lotte Chemical.
Under the terms of the strategic partnership, Lotte will acquire an expanded non-exclusive license to sell ZBB's zinc-bromide continuous flow battery globally with the exception of the United States and China.
In addition, ZBB and Lotte entered into a new research development agreement. The next generation 500kWh battery represents a tenfold increase in storage capabilities relative to the current ZBB EnerStore(NYSE:R) 50kWh product.
With the signing of these agreements, ZBB realizes a substantial improvement in their cash position, as well as longer term opportunities for additional revenues and cash flow.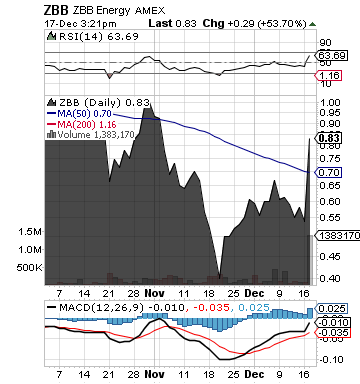 ZBB designs, develops, and manufactures advanced energy storage, power electronic systems, and engineered custom and semi-custom products targeted at the growing global need for distributed renewable energy, energy efficiency, power quality, and grid modernization.
More about ZBB Energy Corp. (ZBB) at www.zbbenergy.com.
**
Read Full Disclaimer at www.pennytobuck.com/disclaimer
Disclosure: I have no positions in any stocks mentioned, and no plans to initiate any positions within the next 72 hours.