AerCap Holdings N.V. (NYSE:AER)
AER closed at $34.97, up $1.80 (or +5.43%), and 4,393,262 of its shares exchanged hands on Tuesday's trading session.
The price target of AER was raised from $22.00 to $40.00 by brokerage firm FBR Capital. The company reported that it has entered into a definitive agreement with American International Group, Inc. (NYSE:AIG) under which AER will acquire 100% of the common stock of International Lease Finance Corporation (ILFC), a wholly-owned subsidiary of AIG.
Under the terms of the agreement, AIG will receive $3.0 billion in cash and 97,560,976 AER shares. The combined company will retain the name AerCap, and ILFC will become a wholly-owned subsidiary of AER.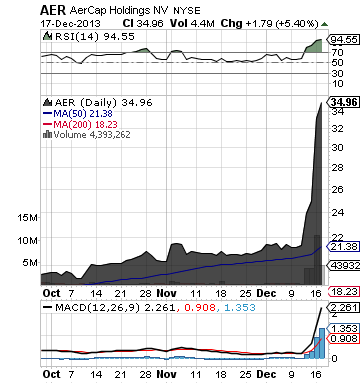 AER is one of the world's leading aircraft leasing companies.
More about AerCap Holdings N.V. (AER) at www.aercap.com
**
Read Full Disclaimer at www.drstockpick.com/disclaimer
Disclosure: I have no positions in any stocks mentioned, and no plans to initiate any positions within the next 72 hours.