Polypore International Inc. (NYSE:PPO) and Sumitomo Chemical Co., Ltd. reported that they have entered into a Settlement and License Agreement which ends all outstanding worldwide litigation between the two companies related to PPO's intellectual property rights on battery separator coating.
Under the License Agreement, Sumitomo Chemical has licensed PPO's intellectual property related to coating separators for lithium-ion batteries. The financial terms of the Agreement include an up-front payment to PPO as well as recurring royalties.
Shares of PPO climbed slightly $0.43 (or +1.14%) to $38.01 on Friday's market activity.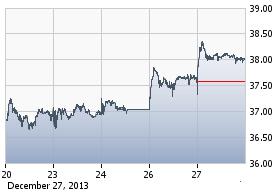 PPO is a global high technology filtration company specializing in microporous membranes. PPO's flat sheet and hollow fiber membranes are used in specialized applications that require the removal or separation of various materials from liquids, primarily in the ultrafiltration and microfiltration markets.
More about Polypore International Inc. (PPO) at www.polypore.net.
**
Read Full Disclaimer at www.drstockpick.com/disclaimer
Disclosure: I have no positions in any stocks mentioned, and no plans to initiate any positions within the next 72 hours.