Pluristem Therapeutics, Inc. (NASDAQ:PSTI)
Keep a close eye on PSTI. The company reported that it has been granted a new patent in Australia. Patent #2008300185, titled "Methods for Cell Expansion and Uses of Cells and Conditioned Media Produced thereby for Therapy," covers the use of adherent placental cells for the treatment of ischemia, which is a restriction of blood supply to tissues, and for treatments of conditions requiring connective tissue repair or regeneration.
This is the 27th patent granted to PSTI and it adds to other countries in which the company has patent protection. This patent directly addresses indications that PSTI is currently developing for cardiovascular diseases including Intermittent Claudication, Critical Limb Ischemia and Acute Myocardial Infarction; orthopedic conditions including tendon injuries; and central nervous system conditions including Ischemic Stroke.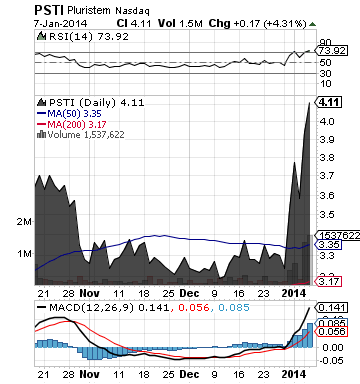 PSTI is a leading developer of placenta-based cell therapies. Its patented PLX (PLacental eXpanded) cells are a drug delivery platform that releases a cocktail of therapeutic proteins in response to a host of local and systemic inflammatory and ischemic diseases.
More about Pluristem Therapeutics, Inc. (PSTI) at www.pluristem.com
**

CAE Inc. (NYSE:CAE)
CAE announced that it has won contracts valued at more than C$110 million, not including options, to provide a range of training systems and services for defence customers.
The contracts, which add to CAE's third quarter fiscal year 2014 order intake, include a new program to provide Beechcraft T-44C aircrew training for the United States Navy, a foreign military sale contract to provide an MH-60R Seahawk helicopter simulator for the Royal Danish Navy, and a contract from Beechcraft to provide a T-6C ground-based training system for the Mexican Air Force.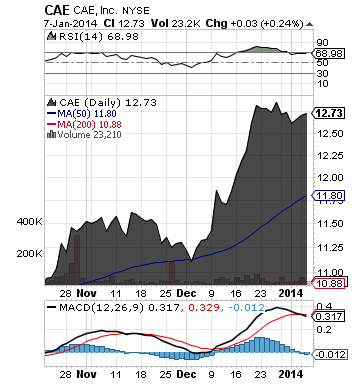 CAE is a global leader in modelling, simulation and training for civil aviation and defence.
More about CAE Inc. (CAE) at www.cae.com.
**
Read Full Disclaimer at www.pennyomega.com/disclaimer
Disclosure: I have no positions in any stocks mentioned, and no plans to initiate any positions within the next 72 hours.