ArQule Inc. (NASDAQ:ARQL)
Keep a close eye on ARQL. The company provided positive clinical updates on the ongoing pivotal Phase 3 METIV-HCC trial in hepatocellular carcinoma (liver cancer), and on the completed amended Phase 3 ATTENTION trial in non-squamous non-small cell lung cancer
MET is a receptor tyrosine kinase, which is present in low to normal levels to support natural cellular function, but in some cancer cells, MET is inappropriately and continuously activated.
When abnormally activated, c-Met plays multiple roles in aspects of human cancer, including cancer cell growth, survival, angiogenesis, invasion and metastasis. The activation of certain cell signaling pathways, including MET, has also been associated with the development of resistance to EGFR (epidermal growth factor receptor) inhibitors such as cetuximab.
ARQL reported that after review of data analyses from a predefined number of patients who received tivantinib 120mg tablets administered twice daily, the Data Monitoring Committee has approved the continuation of the ongoing pivotal Phase 3 METIV-HCC liver cancer trial
According to ARQL, recently completed safety analyses among patients treated with this lower dose, showed that the incidence of neutropenia was reduced.
The METIV-HCC trial is a pivotal randomized, double-blind study of tivantinib as single agent therapy in previously treated patients with MET diagnostic-high, inoperable hepatocellular carcinoma (NYSE:HCC).
Furthermore, ARQL's partner Kyowa Hakko Kirin Co., Ltd. reported top-line results of the amended Phase 3 ATTENTION clinical trial evaluating the combination of tivantinib (ARQ 197) and erlotinib in patients with advanced or metastatic non-squamous non-small cell lung cancer with wild-type EGFR (epidermal growth factor receptor).
ARQL's tivantinib is an orally administered, selective inhibitor of the c-MET receptor tyrosine kinase.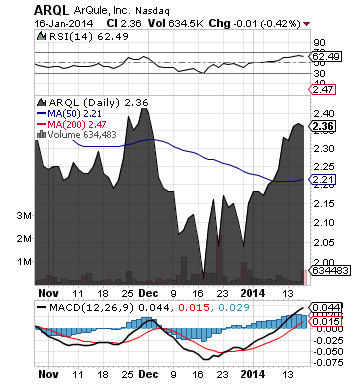 ARQL is a biotechnology company engaged in the research and development of next-generation, small-molecule cancer therapeutics.
More about ArQule Inc. (ARQL) at www.arqule.com
**

Skyworks Solutions Inc. (NASDAQ:SWKS)
SWKS is off to a great start in fiscal 2014 as the company exceeded guidance and delivered strong performance across all key financial and operational metrics on its financial results.
For the first quarter of its fiscal 2014, SWKS posted revenue of $505.2 million, an 11% increase year over year and 6% sequentially, non-GAAP operating income of $141.8 million, a 24% increase compared to the same period the prior year, and non-GAAP diluted earnings per share of $0.67, compared to $0.55 for the prior year first fiscal quarter.
According to its second quarter 2014 outlook, SWKS anticipates revenue to be up 11% year-over-year to approximately $470 million with non-GAAP diluted earnings per share up 23% year-over-year to $0.59.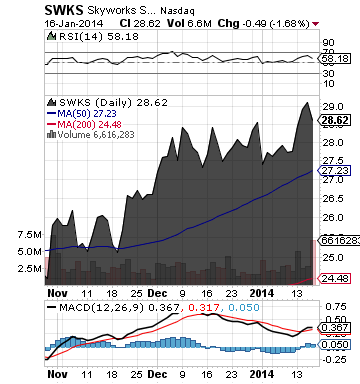 SWKS is an innovator of high performance analog semiconductors. Leveraging core technologies, SWKS supports automotive, broadband, cellular infrastructure, energy management, GPS, industrial, medical, military, wireless networking, smartphone and tablet applications.
More about Skyworks Solutions Inc. (SWKS) at www.skyworksinc.com.
**
Read Full Disclaimer at www.pennyomega.com/disclaimer
Disclosure: I have no positions in any stocks mentioned, and no plans to initiate any positions within the next 72 hours.