Ericsson (NASDAQ:ERIC)
ERIC and Samsung have reached an agreement on global patent licenses between the two companies. The cross license agreement covers patents relating to GSM, UMTS, and LTE standards for both networks and handsets.
This agreement ends complaints made by both companies against each other before the International Trade Commission (ITC) as well as the lawsuits before the U.S. District Court for the Eastern District of Texas.
The agreement includes an initial payment and ongoing royalty payments from Samsung to ERIC for the term of the new multi-year license agreement.
The initial payment in the agreement will impact ERIC sales and net income in Q4 2013 by SEK 4.2 billion (US$652 million) and SEK 3.3 billion (US$512 million) respectively. ERIC expects that the initial payment in the agreement will impact its operating cash flow in the beginning of 2014.
++ (US$1 = 6.4421 Swedish crowns)
The details of the agreement are confidential and will not be disclosed. Information of the financial impact of the initial payment on ERIC's Q4 2013 results will be included in its Q4 2013 earnings report.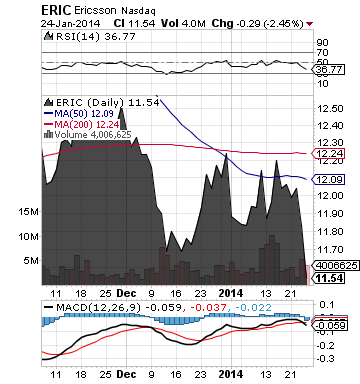 ERIC is a world-leading provider of communications technology and services.
More about Ericsson (ERIC) at www.ericsson.com
**
Read Full Disclaimer at www.drstockpick.com/disclaimer
Disclosure: I have no positions in any stocks mentioned, and no plans to initiate any positions within the next 72 hours.