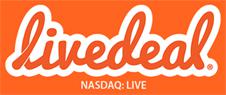 LiveDeal Inc. (NASDAQ:LIVE)
Shares of LIVE jumped $1.55 (or +9.10%) to $18.59 on Thursday's trading session, after the company reported the official launch of DealCentral, the first online deal portal allowing restaurants to instantly create, modify, pause and play and publish offers and deals to nearby potential consumers all in one central online place.
LIVE's DealCentral is easy to use and is available 24 hours a day and gives restaurants the full capability to change their deal 'on the fly,' based upon real time business conditions. Restaurants are able to create deals and publish them either instantly or on a preset and recurring schedule so that a deal runs automatically. LIVE's DealCentral also enables restaurants to specify the maximum number of vouchers that can be issued for any deal, which helps better manage traffic based on the deal for any particular day.
livedeal.com is a unique, real-time "dea.l engine" connecting merchants with consumers. LIVE believes that it has developed a first-of-its-kind web/mobile platform providing restaurants with full control and flexibility to instantly publish customized offers whenever they wish to attract customers.
The company recently announced that its Board of Directors has approved a three-for-one forward stock split of LIVE's common shares. Stockholders will receive three shares of Common Stock for every one share of Common Stock owned on the record date of February 3, 2014.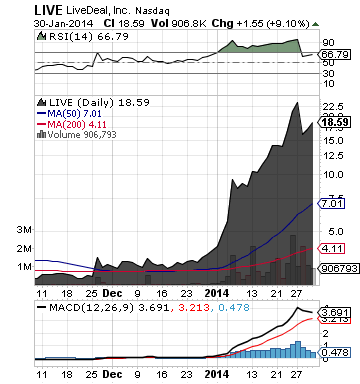 LIVE provides marketing solutions that boost customer awareness and merchant visibility on the Internet. The company operates a deal engine, which is a service that connects merchants and consumers via an innovative platform that uses geo-location, enabling businesses to communicate real-time and instant offers to nearby consumers.
More about LiveDeal Inc. (LIVE) at www.livedeal.com.
**
Read Full Disclaimer at www.drstockpick.com/disclaimer
Disclosure: I have no positions in any stocks mentioned, and no plans to initiate any positions within the next 72 hours.