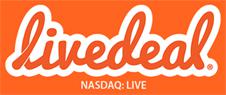 LiveDeal Inc. (NASDAQ:LIVE)
According to Pew Research Center, 91% of American adults have a cell phone, 63% of adult cell owners use their phones to go online and 34% of cell internet users go online mostly using their phones, and not using some other device such as a desktop or laptop computer.
Cisco forecasts that traffic from wireless and mobile devices will exceed traffic from wired devices by 2016
Mobile is the greatest shift in human communication since the beginning of the internet.
LIVE recently reported that it will release Apple iOS and Andoid apps of its popular livedeal.com to keep pace with a growing livedeal.com mobile user base. The native mobile applications are near completion and are scheduled to be released by the end of the first quarter.
LIVE's livedeal.com is a unique, real-time "deal engine" connecting merchants with consumers.
LIVE's latest addition to its online deal platform is DealCentral, which has the potential to change the industry by putting all of the power in the hands of businesses that use the platform to entice potential customers with offers and deals. DealCentral lets restaurants instantly create, modify, pause and play and most importantly publish promotional deals to hungry nearby diners.
LIVE believes that it has developed a first-of-its-kind web/mobile platform providing restaurants with full control and flexibility to instantly publish customized offers whenever they wish to attract customer.
According to the company, the popularity of its "deal engine" has quickly caught on in the dining industry in those cities it has officially launched, San Diego, Los Angeles, and San Francisco.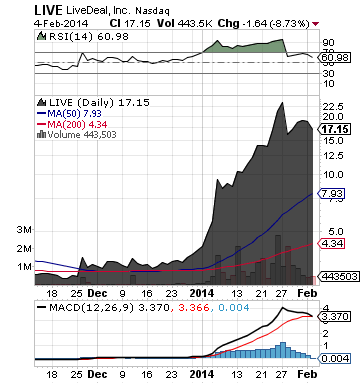 LIVE provides marketing solutions that boost customer awareness and merchant visibility on the Internet. LIVE operates a deal engine, which is a service that connects merchants and consumers via an innovative platform that uses geo-location, enabling businesses to communicate real-time and instant offers to nearby consumers.
More about LiveDeal Inc. (LIVE) at www.livedeal.com
**

Tableau Software Inc. (NYSE:DATA)
Keep a close eye on DATA. The company reported strong performance on its financial results on Tuesday after cloing bell.
For the fourth quarter 2013, DATA posted total revenues of $81.5 million, a 95% increase year over year, GAAP operating income of $9.2 million, compared to GAAP operating loss of $2.3 million in the same period the prior year, and GAAP net income of $11.2 million, or $0.16 per diluted common share, compared to a GAAP net loss of $1.1 million, or $0.03 per diluted common share, for the fourth quarter of 2012.
Recently, DATA was upgraded from neutral to buy, and raised its 12-month price target raised from $77.00 to $92.00 by brokerage firm Goldman Sachs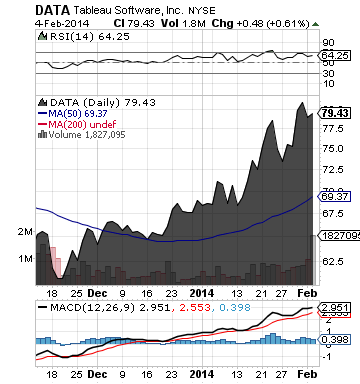 DATA, a business analytics software company, helps people see and understand data. It helps anyone quickly analyze, visualize and share information.
More about Tableau Software (DATA) at www.tableausoftware.com
**
Read Full Disclaimer at www.drstockpick.com/disclaimer
Disclosure: I have no positions in any stocks mentioned, and no plans to initiate any positions within the next 72 hours.