Anika Therapeutics Inc. (NASDAQ:ANIK)
Osteoarthritis (NYSE:OA), commonly known as wear and tear arthritis, is a condition in which the natural cushioning between joints -- cartilage -- wears away. When this happens, the bones of the joints rub more closely against one another with less of the shock-absorbing benefits of cartilage. The rubbing results in pain, swelling, stiffness, decreased ability to move and, sometimes, the formation of bone spurs.
Greater than 5% of the world's population is afflicted by OA of the knee, making it the most common joint disease.
Most commonly affecting middle-aged and older people, OA can range from very mild to very severe. Risk factors include being overweight, joint injury, muscle weakness, having other forms of arthritis and heredity. Approximately 10 million Americans currently suffer from OA of the knee and that number is expected to increase.
ANIK reported that it has received marketing approval for MONOVISC(NYSE:R) from the U.S. FDA. MONOVISC is a single injection supplement to synovial fluid of the osteoarthritic joint, used to treat pain and improve joint mobility in patients suffering from osteoarthritis (OA) of the knee.
MONOVISC is the first FDA approved single injection product with hyaluronic acid (NASDAQ:HA) from a non-animal source. It is comprised of a sterile, clear, biocompatible, resorbable, viscoelastic fluid composed of partially cross-linked sodium hyaluronate (NaHA) in phosphate buffered saline.
MONOVISC will be marketed in the U.S. by DePuy Synthes, Mitek Sports Medicine (Mitek), a leading orthopedic sports medicine company. Under the license agreement with Mitek, ANIK will receive a milestone payment of $5 million upon first commercial sale of MONOVISC in the market. The agreement also calls for potential additional payments contingent on achieving certain performance and sales threshold milestones, in addition to product transfer and royalty fees.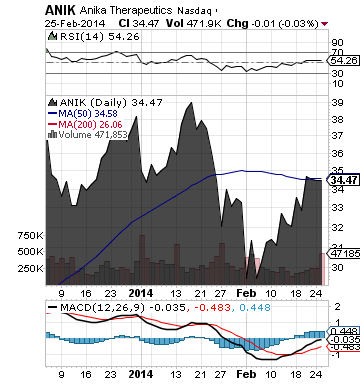 ANIK develops, manufactures and commercializes therapeutic products for tissue protection, healing, and repair. These products are based on hyaluronic acid (HA), a naturally occurring, biocompatible polymer found throughout the body.
More about Anika Therapeutics Inc. (ANIK) at www.anikatherapeutics.com
**

China Digital TV Holding Co., Ltd. (NYSE:STV)
Keep a close eye on STV. The company reported strong performance on its unaudited financial results, driven by better-than-expected shipment volume of smart cards.
For the fourth quarter 2013, STV posted net revenues of $25.9 million, an 11.9% increase year over year, diluted earnings per American depositary share (NYSE:ADS) of $0.17, compared to $0.07 in the same period the prior year, and the company shipped approximately 4.95 million smart cards, compared to 4.07 million in the fourth quarter 2012.
For the full year 2013, net income attributable to STV was $24.4 million, an increase of 252.4% from $6.9 million for the full year 2012.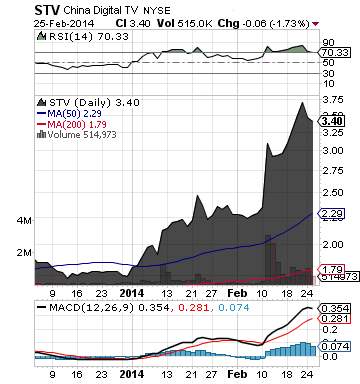 STV is the leading provider of conditional access (NASDAQ:CA) systems to China's expanding digital television market. CA systems enable television network operators to manage the delivery of customized content and services to their subscribers.
More about China Digital TV Holding Co., Ltd. (STV) at ir.chinadtv.cn
**
Read Full Disclaimer at www.pennyomega.com/disclaimer
Disclosure: I have no positions in any stocks mentioned, and no plans to initiate any positions within the next 72 hours.