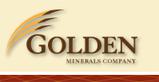 Golden Minerals Company (NYSEMKT:AUMN)
Keep a close eye on AUMN. The company reported that it has recently received assay results from eight drill holes totaling 1,490 meters from drilling at its Los Azules exploration project located in southern Chihuahua, Mexico.
Significant results include 2.0 meters assaying 8.2 g/t (grams per tonne) gold, 1.0 meters assaying 35.2 g/t gold, 0.9 meters assaying 11.1 g/t gold and 0.5 meters assaying 10.5 g/t gold. All drill results are available on AUMN's website
Historic mining on the vein system at Los Azules reportedly produced 500,000 tonnes of gold ore averaging 11 g/t gold (Servicio Geologico Mexicano, p. 411 of Monografia Geologico-Minero del Estado de Chihuahua). Historic mining exploited oxide portions of the vein system above the elevation of AUMN's current access drifts.
AUMN holds 233 hectares of concessions in the Los Azules property through its wholly-owned Mexican subsidiary Minera de Cordilleras, S. De R.L. de C.V under a purchase option agreement.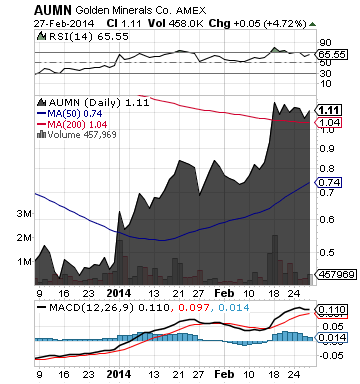 AUMN owns the Velardeña Mining Operations in Durango State, Mexico, the evaluation stage El Quevar silver project in the Salta province of northwestern Argentina, and a portfolio of precious metals exploration properties located in or near historical precious metals producing regions of Mexico and South America.
More about Golden Minerals Company (AUMN) at www.goldenminerals.com.
**

58.com Inc. (NYSE:WUBA)
On its unaudited financial results, WUBA reported a new record for quarterly revenues that exceeded the high end of the company's earlier guidance for the quarter.
For the fourth quarter 2013, WUBA posted total revenues of $45.3 million, an 83.2% increase year over year, gross profit of $43.2 million, a 96.2% increase compared to the same period the prior year, and net income of $10.8 million, compared with a net loss of $(4.8) million in the fourth quarter 2012.
According to its business outlook and based on WUBA's current operations, total revenues for the first quarter of 2014 are expected to be between $43 million and $45 million, representing a year-over-year increase of 81% to 90%.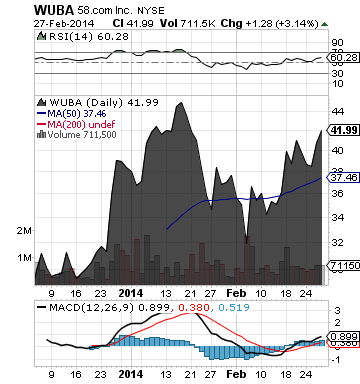 WUBA operates China's largest online marketplace serving local merchants and consumers, as measured by monthly unique visitors on both its website and mobile applications.
More about 58.com Inc. (WUBA) at www.58.com.
**
Read Full Disclaimer at www.pennyomega.com/disclaimer
Disclosure: I have no positions in any stocks mentioned, and no plans to initiate any positions within the next 72 hours.