R. R. Donnelley & Sons Company (NASDAQ:RRD)
RRD reported that it has been awarded a $250 million multi-year agreement by Dex Media for directory production that renews and significantly expands the companies' relationship through 2020.
Under the terms of the agreement, RRD will produce approximately 1,700 directory titles each year, totaling more than 87 million copies annually. In addition, approximately 200 titles, totaling more than 190,000 copies, will be produced on their digital platform.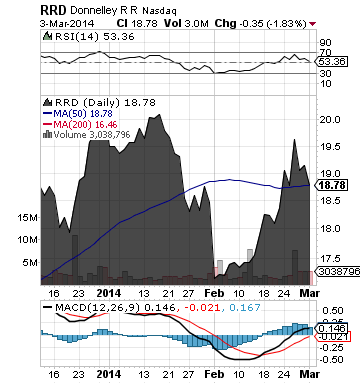 RRD helps organizations communicate more effectively by working to create, manage, produce, distribute and process content on behalf of its customers.
More about R. R. Donnelley & Sons Company (RRD) at www.rrdonnelley.com.
**

GTx, Inc. (NASDAQ:GTXI)
GTXI reported that it has entered into a securities purchase agreement with J.R. Hyde, III, the chairman of GTXI's Board of Directors, and The Pyramid Peak Foundation, to issue and sell in a private placement to these purchasers an aggregate of 11,976,048 immediately separable units, comprised of an aggregate of 11,976,048 shares of GTXI common stock and warrants to purchase up to 10,179,642 additional shares of common stock.
The private placement would, subject to the satisfaction of customary closing conditions, generate gross proceeds to GTXI of $21,272,455.42, or approximately $1.77625 per unit.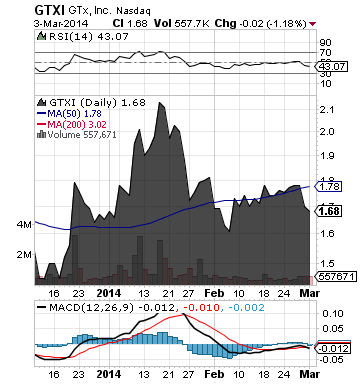 GTXI is a biopharmaceutical company dedicated to the discovery, development, and commercialization of small molecules for the treatment of cancer, including treatments for prostate and breast cancer, cancer supportive care, including prevention and treatment of cancer-related muscle wasting, and other serious medical conditions.
More about GTx, Inc. (GTXI) at www.gtxinc.com.
**

GrafTech International Ltd. (GTI)
GTI was upgraded from Hold to Buy with a price target of $11.50 per share by brokerage firm Jefferies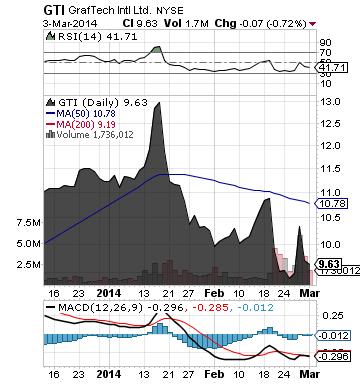 GTI offers innovative graphite material solutions for its customers in a wide range of industries and end markets, including steel manufacturing, advanced energy applications and latest generation electronics.
More about GrafTech International Ltd. (GTI) at www.GrafTech.com.
**
Read Full Disclaimer at www.pennyomega.com/disclaimer
Disclosure: I have no positions in any stocks mentioned, and no plans to initiate any positions within the next 72 hours.