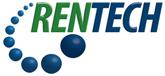 Rentech, Inc. (NYSEMKT:RTK)
RTK reported that it has entered into a definitive agreement with Sunshine Kaidi New Energy Group Co., Ltd. to sell its alternative energy technologies and decommissioned Product Demonstration Unit (PDU).
The transaction calls for an initial cash payment to RTK of $15.3 million, and the possibility of a success payment of up to $16.2 million to the Company upon the successful construction and operation by Kaidi, at its cost, of a demonstration-scale plant in China utilizing the technologies and PDU equipment acquired from RTK.
The sale of the technologies is expected to close in mid-2014. Closing of the transaction is subject to customary conditions, including regulatory approvals in the United States and the People's Republic of China.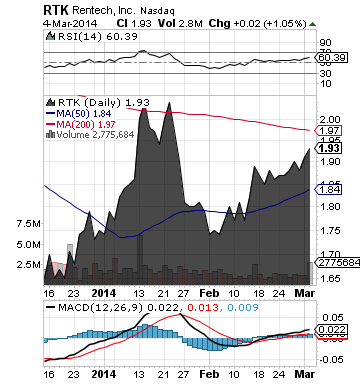 RTK owns and operates wood fibre processing and nitrogen fertilizer manufacturing businesses.
More about Rentech, Inc. (RTK) at www.rentechinc.com
**

RXi Pharmaceuticals Corp. (NASDAQ:RXII)
RXII said that it has been granted a patent by the U.S. Patent and Trademark Office on its unique self-delivering RNAi compounds (sd-rxRNA(NYSE:R)), for the treatment of fibrosis.
The patent covers the use of sd-rxRNAs targeting CTGF (Connective Tissue Growth Factor), including RXI-109, for the treatment of fibrotic disorders. U.S. Patent Number 8,664,189, will expire in 2029. The Notice of Allowance was released on January 14, 2014 for this patent.
RXII's first clinical program involves RXI-109, a self-delivering RNAi compound (sd-rxRNA(R)) developed for the reduction of dermal scarring. RXI-109 is designed to reduce the expression of CTGF, a critical regulator of biological pathways involved in fibrosis, including scar formation in the skin.
The first clinical trials with RXI-109 showed excellent safety and tolerability with ascending single and multiple doses, as well as dose dependent effects on the Connective Tissue Growth Factor protein and on the mRNA that controls production of this protein.
RXII's sd-rxRNA oligonucleotides are designed for therapeutic use and have drug-like properties, such as high potency, target specificity, serum stability, reduced immune response activation, and efficient cellular uptake. These hybrid oligonucleotide molecules combine the beneficial properties of conventional RNAi and antisense technologies. This allows sd-rxRNAs to achieve efficient cellular uptake and potent, long-lasting intracellular activity.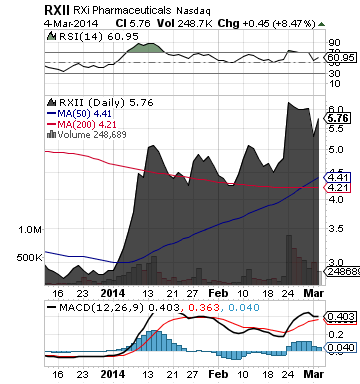 RXII is a biotechnology company focused on discovering, developing and commercializing innovative therapies based on its proprietary, self-delivering RNAi platform.
More about RXi Pharmaceuticals Corp. (RXII) at www.rxipharma.com.
**
Read Full Disclaimer at www.pennyomega.com/disclaimer
Disclosure: I have no positions in any stocks mentioned, and no plans to initiate any positions within the next 72 hours.