Chiquita Brands International, Inc. (NYSE:CQB)
Bananas are very good for us. They provide a quick boost of energy and are a good source of vitamins C and B6.
Bananas are the main fruit in international trade and the most popular one in the world. In terms of volume they are the first exported fruit, while they rank second after citrus fruit in terms of value.
The world's fresh banana market is characterized as an oligopolistic market, with only a few multinational companies engaged in the purchase, transport, and marketing of the fruit. Typically, these companies are integrated vertically; they own or contract plantations, own sea transport and ripening facilities, and have their own distribution networks, which gives them considerable economies of scale and market power in selling bananas.
CQB and Fyffes plc reported that the Boards of Directors of both companies have unanimously approved a definitive agreement under which CQB will combine with Fyffes, in a stock-for-stock transaction that is expected to result in CQB shareholders owning approximately 50.7% of ChiquitaFyffes, and Fyffes shareholders owning approximately 49.3% of ChiquitaFyffes, on a fully diluted basis.
The agreement creates a global banana and other fresh produce company with approximately $4.6 billion in annual revenues. CQB and Fyffes plan to complete the transaction before the end of 2014.
CQB and Fyffes anticipate that the transaction will potentially provide annualized recurring before tax overhead and operational synergies of at least $40 million by the end of 2016.
Upon completion of the transaction, ChiquitaFyffes will become the leading global banana and other fresh produce company with greater scale and efficiency.
As part of a larger, more diversified organisation, on the basis of current volumes, ChiquitaFyffes will become the largest global entity in the banana category with sales of more than 160 million boxes annually.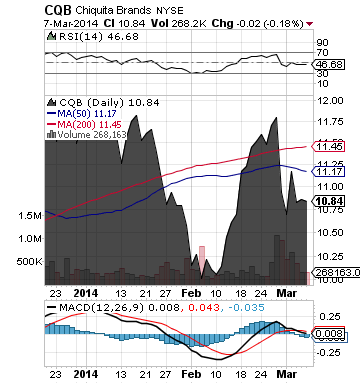 CQB is a leading international marketer and distributor of bananas, salads, other fruits and healthy snacking products.
More about Chiquita Brands International, Inc. (CQB) at www.chiquita.com
**

United Microelectronics Corporation (NYSE:UMC)
UMC reported on its unaudited net sales results, that for the month of February 2014, its revenues increased 18.45% year over year, while for the period January-February 2014, UMC's revenues surged 12.22% compared to the same period the prior year.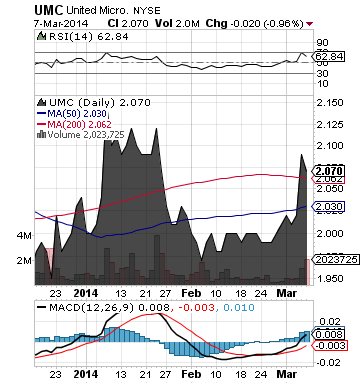 UMC is a leading global semiconductor foundry that provides advanced technology and manufacturing for applications spanning every major sector of the IC industry.
More about United Microelectronics Corporation (UMC) at www.umc.com
**
Read Full Disclaimer at www.pennyomega.com/disclaimer
Disclosure: I have no positions in any stocks mentioned, and no plans to initiate any positions within the next 72 hours.