RTI Surgical Inc. (NASDAQ:RTIX)
A hernia is a condition in which an organ or other structure protrudes through a weak part of tissue or muscle. In some cases, a hernia can create a visible lump or bulge in the skin.
Ignoring a hernia can affect your ability to function and cause intestinal obstruction requiring major surgery if not treated quickly.
A hernia repair (surgical correction) returns the organ or structure to its proper place and fixes the weakened area of muscle or tissue.
More than a million patients a year undergo surgery for some kind of hernia in the United States. About 80% are so-called inguinal hernias in the groin area. There isn't always an obvious cause. Some are hereditary or linked to weakness in the abdominal wall that may happen at birth when the abdomen lining doesn't close properly. Other types of hernias are caused by pregnancy, trauma or previous surgical incisions. Hernias can affect both adults and children, and men are most at risk.
Surgery proceeds in much the same way, regardless of where the incision is made. The hernia sac is carefully opened and the intestine or other tissue is placed back inside the abdomen. The weakened area is repaired and reinforced with a synthetic mesh or a suture that pulls the abdominal muscle tissue back together.
Serious complications can occur if the surgical mesh or other devices break or become twisted or dislodged; new biologic meshes including some made from pig skin are being used in complex repairs because they can reduce the chance of infection.
RTIX reported that it has received approval to CE mark Fortiva(NYSE:TM) Porcine Dermis and will begin distribution throughout Europe. RTIX's Fortiva received 510(k) clearance from the U.S. FDA in March 2013 and was launched in the U.S. in July 2013.
RTIX's Fortiva porcine dermis is a non-crosslinked acellular porcine dermal matrix intended for use as a soft tissue patch to reinforce soft tissue where weakness exists and for the surgical repair of damaged or ruptured soft tissue membranes. The implant is indicated for use in repairing hernias and/or body wall defects that require the use of reinforcing or bridging material to obtain the desired surgical outcome.
RTIX's Fortiva porcine dermis is sterilized through the company's Tutoplast(NYSE:R) Tissue Sterilization Process, a validated chemical sterilization process that thoroughly penetrates tissue, removing antigenicity and inactivating pathogens.Low dose gamma irradiation ensures sterility of final packaged product.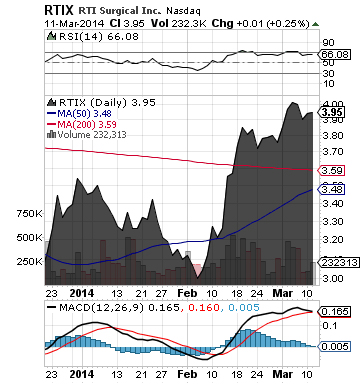 RTIX is a leading global surgical implant company providing surgeons with safe biologic, metal and synthetic implants. It has provided more than four million implants with zero incidence of implant-associated infection.
More about RTI Surgical Inc. (RTIX) at www.rtix.com
**

OXiGENE, Inc. (OXGN)
The ovaries are part of the female reproductive system. They produce a woman's eggs and female hormones.
Ovarian cancer is a growth of abnormal malignant cells that begins in the ovaries. Cancer that spreads to the ovaries but originates at another site is not considered ovarian cancer.
The American Cancer Society estimates that in 2014, about 21,980 new cases of ovarian cancer will be diagnosed and 14,270 women will die of ovarian cancer in the United States.
Patients who have been diagnosed with ovarian cancer may have persistent, refractory or recurrent cancer following treatment with surgery and first-line chemotherapy. Persistent cancer refers to residual cancer growths or cells that persist during and following initial treatment. Patients who have achieved complete remission following initial therapy and who subsequently experience a return of cancer cells after treatment are said to have relapsed or recurrent cancer.
OXGN reported positive topline results from a randomized Phase 2 clinical trial evaluating Avastin(R) (bevacizumab) with or without ZYBRESTAT(R) (fosbretabulin; CA4P) to treat patients with recurrent ovarian cancer.
The study met its primary endpoint of a statistically significant increase in progression-free survival for the combination as compared to bevacizumab alone.
The Phase 2 study is the first and currently only randomized trial to test an antiangiogenic therapeutic agent combined with a vascular disrupting agent, without including any cytotoxic chemotherapy.
ZYBRESTAT is OXGN's lead vascular disrupting agent product candidate, and is currently being evaluated as a treatment for solid tumors.
OXGN's ZYBRESTAT exerts its antitumor effects through the validated therapeutic mechanism of tumor blood supply deprivation. By selectively affecting and disabling tumor vasculature, ZYBRESTAT reduces the blood supply necessary for tumor growth and survival. The resulting oxygen starvation and build-up of tumor metabolic by-products causes the cancer cells within the central core of the tumor to die.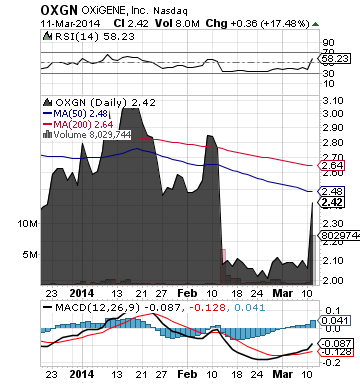 OXGN is focused on developing vascular disrupting agents, which are compounds that selectively disrupt abnormal blood vessels associated with solid tumor survival and progression.
More about OXiGENE, Inc. (OXGN) at www.oxigene.com
**
Read Full Disclaimer at www.pennyomega.com/disclaimer
Disclosure: I have no positions in any stocks mentioned, and no plans to initiate any positions within the next 72 hours.