BioLineRx Ltd. (NASDAQ:BLRX)
BL-8040 is a clinical-stage drug candidate for the treatment of acute myeloid leukemia, as well as other hematological indications. It is a short peptide that functions as a high-affinity antagonist for CXCR4, a chemokine receptor that is directly involved in tumor progression, angiogenesis (growth of new blood vessels in the tumor), metastasis (spread of the disease to other organs or organ parts) and cell survival. CXCR4 is over-expressed in more than 70% of human cancers and its expression often correlates with disease severity.
BL-8040 is being developed by BLRX under a worldwide exclusive license from Biokine Therapeutics.
BLRX reported that an Issue of Notification has been received from the United States Patent and Trademark Office for U.S. Patent No. 8,663,651, which includes claims to protect the use of BL-8040's composition for enhancing immune responses to an antigen, such as a tumor-associated antigen. The issued patent has a term extending to October 2029.
This patent is part of BL-8040's expanding patent portfolio, which includes 13 issued patents and 25 patent applications pending worldwide, providing a strong intellectual property estate around BL-8040.
BL-8040 is currently undergoing a Phase 2 trial for the treatment of acute myeloid leukemia and is expected to enter a Phase 1 trial for stem cell mobilization in the 2nd quarter of 2014.
BLRX expects top-line results for both of these clinical studies towards the end of the year or early next year.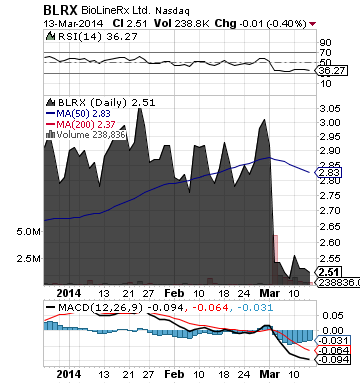 BLRX is dedicated to identifying, in-licensing and developing promising therapeutic candidates.
More about BioLineRx Ltd. (BLRX) at www.biolinerx.com
**

Vaalco Energy Inc. (NYSE:EGY)
Keep a close eye on EGY. The company reported strong performance on its financial results
For the fourth quarter 2013, EGY posted net income of $26.4 million, or $0.46 per diluted share, compared to a net loss attributable to EGY of ($18.9) million, or ($0.33) per diluted share, in the same period the prior year, while for the full year 2013, EGY posted record net income of $43.1 million, or $0.74 per diluted share, compared $0.6 million, or $0.01 per diluted share, the full year 2012.
On June 6, 2013, EGY announced that its Board of Directors has authorized the repurchase of up to $25.0 million of the Company's common stock over the next 12 months. During 2013, EGY repurchased 1,765,170 shares at an average price of $6.49 per share totaling $11.5 million.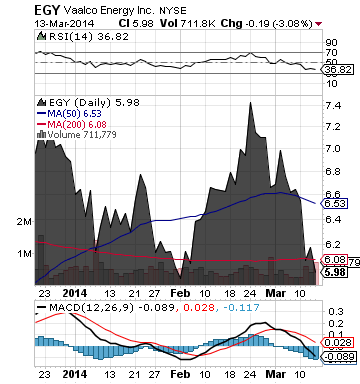 EGY is principally engaged in the acquisition, exploration, development and production of crude oil.
More about VAALCO Energy, Inc. (EGY) at www.vaalco.com.
**
Read Full Disclaimer at www.pennyomega.com/disclaimer
Disclosure: I have no positions in any stocks mentioned, and no plans to initiate any positions within the next 72 hours.