Synta Pharmaceuticals Corp. (SNTA)
When a woman is first diagnosed with breast cancer -- any stage of breast cancer -- one of her greatest fears is "What if it's spread?"
Metastatic cancer is cancer that has spread from the place where it first started to another place in the body. A tumor formed by metastatic cancer cells is called a metastatic tumor or a metastasis. The process by which cancer cells spread to other parts of the body is also called metastasis.
Metastatic breast cancer is also classified as Stage 4 breast cancer. The cancer has spread to other parts of the body. This usually includes the lungs, liver, bones or brain.
SNTA reported that positive interim results from the ENCHANT-1 trial of ganetespib in metastatic breast cancer are being presented in an oral session at the 9th European Breast Cancer Conference in Glasgow, Scotland.
The ENCHANT-1 trial was designed to evaluate ganetespib single agent activity in metastatic breast cancer and identify potential predictive biomarkers.
Ganetespib, an investigational drug candidate, is a selective inhibitor of heat shock protein 90 (Hsp90), a molecular chaperone which controls the folding and activation of a number of client proteins that drive tumor development and progression.
According to the principal investigator on the trial, ganetespib appears to not only overcome the challenges of earlier-generation Hsp90 inhibitors, with a good tolerability profile, but demonstrates highly encouraging single-agent activity in both HER2+ breast cancer and triple-negative disease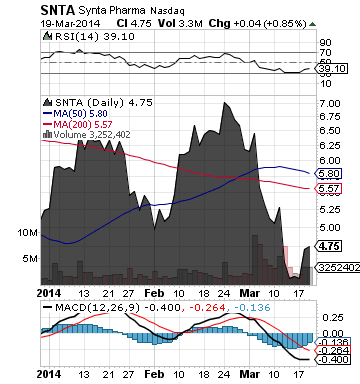 SNTA is focused on discovering, developing, and commercializing small molecule drugs to extend and enhance the lives of patients with severe medical conditions, including cancer and chronic inflammatory diseases.
More about Synta Pharmaceuticals Corp. (SNTA) at www.syntapharma.com.
**

ZIOPHARM Oncology, Inc. (NASDAQ:ZIOP)
ZIOP was initiated with a Buy rating and a price target of $11.00 per share by brokerage firm Mizuho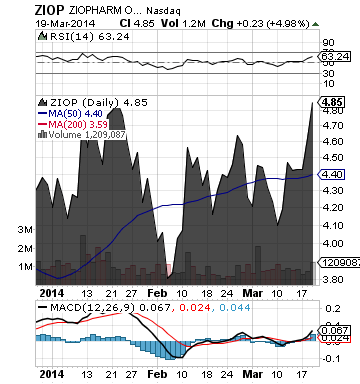 ZIOP is employing novel gene expression and control technology to deliver DNA for the treatment of cancer. Its technology platform employs Intrexon Corporation's RheoSwitch Therapeutic System(NYSE:R) technology to turn on and off, and precisely modulate, gene expression at the cancer site in order to improve the therapeutic index.
More about ZIOPHARM Oncology, Inc. (ZIOP) at www.ziopharm.com
**

CAE Inc. (NYSE:CAE)
CAE reported that it has won a series of contracts valued at more than C$140 million to provide a range of training systems and services for global defence customers. These include:
- four P-8A simulators sold to Boeing for the United States Navy,
- a contract to provide an SW4 helicopter simulator for the Polish Air Force,
- various contracts to provide the German Air Force with a range of training support services, and
- a contract to provide lifecycle support and maintenance services for PWN's AW139 simulator in Malaysia.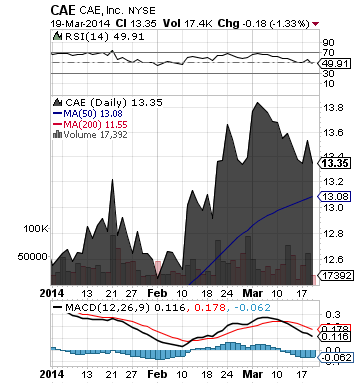 CAE is a global leader in modelling, simulation and training for civil aviation and defence.
More about CAE Inc. (CAE) at www.cae.com.
**
Read Full Disclaimer at www.pennyomega.com/disclaimer
Disclosure: I have no positions in any stocks mentioned, and no plans to initiate any positions within the next 72 hours.