Durata Therapeutics, Inc. (NASDAQ:DRTX)
A skin and skin structure infection is a bacterial infection of skin and associated tissues. It may be complicated skin and skin structure infection or uncomplicated skin and skin structure infection. Since 2008-2010, the U.S. Food and Drug Administration (FDA) has called them acute bacterial skin and skin structure infections (ABSSSI).
According to the FDA, the uncomplicated category includes simple abscesses, impetiginous lesions, furuncles, and cellulitis mainly caused by Staphylococcus aureus and Streptococcus pyogenes. The complicated category includes infections either involving deeper soft tissue or requiring significant surgical intervention, such as infected ulcers, burns, and major abscesses or a significant underlying disease state (e.g., diabetes or systemic immunosuppression) that complicates the response to treatment.
DRTX reported that the FDA's Anti-Infective Drugs Advisory Committee voted 12 to 0 that DRTX has provided substantial evidence of the safety and effectiveness of its investigational drug, Dalvance(NYSE:TM) (dalbavancin) for injection, for the treatment of adult patients with acute bacterial skin and skin structure infections (ABSSSI) caused by susceptible Gram-positive bacteria, including methicillin-resistant Staphylococcus aureus (MRSA).
While not bound by the guidance provided by the Committee, the FDA will consider the Committee's deliberations as part of its review of the New Drug Application (NDA) for Dalvance, which was accepted for priority review by the FDA in November 2013 with an action date of May 26, 2014
DRTX's Dalvance is a second generation, semi-synthetic lipoglycopeptide, which consists of lipophilic side-chains attached to glycopeptides. If approved, Dalvance would be the first drug for ABSSSI requiring only two once-weekly 30-minute intravenous doses (1000 mg on Day 1 and 500 mg on Day 8).
DRTX's Dalvance demonstrates bactericidal activity in vitro against a broad range of bacteria, such as Staphylococcus aureus (including methicillin-resistant strains) and Streptococcus pyogenes, as well as certain other streptococcal species.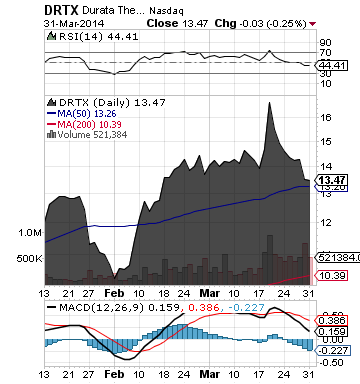 DRTX is focused on the development and commercialization of new therapeutics for patients with infectious diseases and acute illnesses.
More about Durata Therapeutics, Inc. (DRTX) at www.duratatherapeutics.com
**

Biostar Pharmaceuticals, Inc. (NASDAQ:BSPM)
BSPM achieved profitability on its financial results, as compared to the prior year. The company expect to continue its current strategies by expanding its sales and distribution network, strengthening the research and development of new drugs, and investing in low risk, high margin and fast growing businesses.
For the full year 2013, BSPM posted total revenues of $52.73 million, a 7% increase year over year, and net income of $809,046, or diluted earnings per share of $0.06, compared with a net loss of ($20 million), or diluted loss per share of ($2.09) for the full year 2012.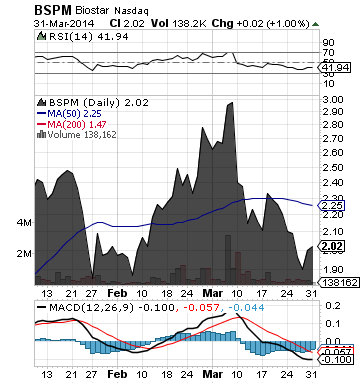 BSPM, through its wholly owned subsidiary and controlled affiliate in China, develops, manufactures and markets pharmaceutical and health supplement products for a variety of diseases and conditions.
More about Biostar Pharmaceuticals, Inc. (BSPM) at www.biostarpharmaceuticals.com.
**
Read Full Disclaimer at www.pennyomega.com/disclaimer
Disclosure: I have no positions in any stocks mentioned, and no plans to initiate any positions within the next 72 hours.