Dyax Corp. (NASDAQ:DYAX)
Hereditary Angioedema (NYSE:HAE) is a very rare and potentially life-threatening genetic condition that occurs in about 1 in 10,000 to 1 in 50,000 people. It is called hereditary because the genetic defect is passed on in families. A child has a 50% chance of inheriting this disease if one of his or her parents has it.
HAE symptoms include episodes of edema (swelling) in various body parts including the hands, feet, face and airway.
In addition, patients often have bouts of excruciating abdominal pain, nausea and vomiting that is caused by swelling in the intestinal wall. Airway swelling is particularly dangerous and can lead to death by asphyxiation. Attacks of swelling can become more severe in late childhood and adolescence.
HAE is caused by low or dysfunctional levels of C1 esterase inhibitor (C1-INH), a naturally occurring molecule that inhibits plasma kallikrein, a key mediator of inflammation, and other serine proteases in the blood.
DYAX reported that the U.S. FDA has approved an expansion of the indication for KALBITOR (ecallantide), a peptide inhibitor of plasma kallikrein used in the treatment of acute hereditary angioedema (HAE) attacks, to include patients 12 years of age and older.
With this approval, KALBITOR is the first and only subcutaneous therapy available to treat acute attacks of HAE in patients 12 years of age and older. KALBITOR, which was discovered and developed by DYAX, is also the only therapy that is not purified from human plasma that has been approved to treat this patient group.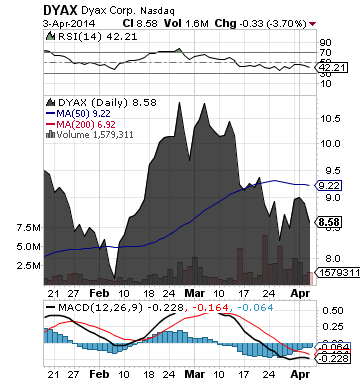 DYAX is a fully integrated biopharmaceutical company focused on the discovery, development and commercialization of novel biotherapeutics for unmet medical needs. DYAX currently markets KALBITOR for the treatment of acute attacks of HAE in patients 12 years of age and older. DYAX is also developing DX-2930 for the prophylactic treatment of HAE.
More about Dyax Corp. (DYAX) at www.dyax.com.
**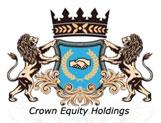 Crown Equity Holdings Inc. (OTCPK:CRWE)
CRWE provides marketing solutions that boost customer awareness and merchant visibility on the Internet.
CRWE is currently developing its CRWE Network (CRWE-PR.com), a social networking service compatible with both, the mobile and desktop web platform, that is designed to target all the communities in the U.S. and Canada.
Update: The CRWE Network, which business model is based on selling advertising to local businesses, has reached the 328th community website in the U.S., associated with 1548 ZIP Codes, and includes coverage of the greater state of California, Northern and Southern Nevada, Wellington in Florida and 9 provinces in Canada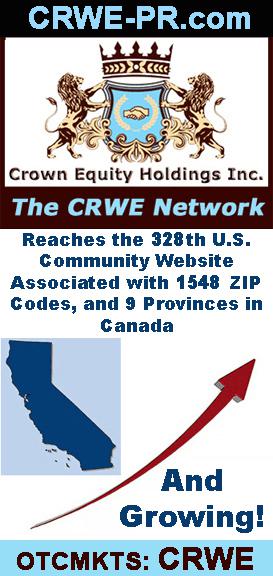 CRWE's community targeted publications of websites will offer businesses' owners the power of developing and publishing their own advertisement through the use of the CRWE Network's platform to entice potential nearby consumers within its community with offers and deals.
CRWE Network's goal is to facilitate exchanges of goods and services in a manner similar to Craigslist, a classified advertisements website with sections devoted to jobs, housing, personals, for sale, items wanted, services, community, gigs, résumés, and discussion forums, while providing micro community news, information and business directory content.
More about Crown Equity Holdings Inc. (OTCPK:CRWE) at www.crownequityholdings.com
**

China Finance Online Co., Ltd. (NASDAQ:JRJC)
Keep a close eye on JRJC. The company reported strong performance on its unaudited financial results, highlighted by its return to profitability.
For the fourth quarter 2013, JRJC posted net revenues of $25.8 million, a 400% increase year over year, gross profit of $21.3 million, a 531% increase compared to the same period the prior year, and net income attributable to JRJC of $1.6 million, compared with a net loss of ($1.6 million) in the previous quarter and a net loss of ($4.9 million) in the fourth quarter of 2012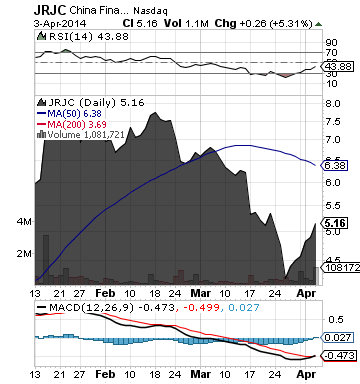 JRJC is a technology-driven, user-focused market leader in China in providing vertically integrated financial information and services
More about China Finance Online Co., Ltd. (JRJC) at www.chinafinanceonline.com
**
Read Full Disclaimer at www.pennyomega.com/disclaimer
Disclosure: I have no positions in any stocks mentioned, and no plans to initiate any positions within the next 72 hours.