Cincinnati Bell Inc. (NYSE:CBB)
CBB reported that it has entered into agreements to sell its wireless spectrum licenses and certain related assets to Verizon Wireless for cash and an assumption of certain Cincinnati Bell liabilities with a total value to CBB of approximately $210 million.
Cincinnati Bell Wireless will, for a nominal charge, lease back the spectrum it is selling for a period of time following the closing of the purchase transaction, during which it will wind down its wireless network operations and assist its wireless customers in transitioning their service arrangements to Verizon Wireless or other wireless providers.
The total value of the deal is estimated to be 4.5 and 6.0 times 2014 and 2015 Cincinnati Bell Wireless Adjusted EBITDA consensus wireless estimates respectively.
The purchase transaction is subject to customary closing conditions, including regulatory approval by the Federal Communications Commission.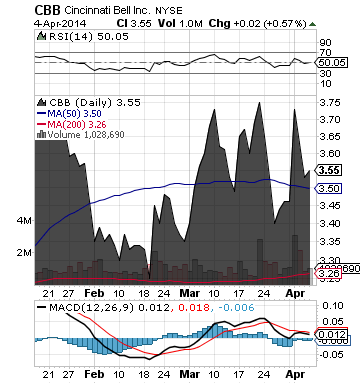 CBB provides integrated communications solutions including local and long distance voice, data, high-speed Internet, entertainment, and wireless services that keep residential and business customers in Greater Cincinnati and Dayton connected with each other and with the world.
More about Cincinnati Bell Inc. (CBB) at www.cincinnatibell.com.
**

Achaogen, Inc. (NASDAQ:AKAO)
AKAO was initiated with a Buy and a price target of $21.00 per share by brokerage firm Needham.
AKAO is developing plazomicin, its lead product candidate, for the treatment of serious bacterial infections due to multi-drug resistant (NYSE:MDR) Enterobacteriaceae, including carbapenem-resistant Enterobacteriaceae.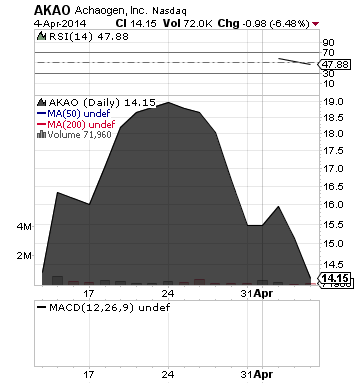 AKAO is a clinical-stage biopharmaceutical company developing novel antibacterials to treat multi-drug resistant (MDR) gram-negative infections
More about Achaogen, Inc. (AKAO) at www.achaogen.com
**
Read Full Disclaimer at www.pennyomega.com/disclaimer
Disclosure: I have no positions in any stocks mentioned, and no plans to initiate any positions within the next 72 hours.