Biodel Inc. (BIOD)
In January of 2013, BIOD announced positive top-line results from a Phase 1 clinical trial of two lispro-based ultra-rapid-acting insulin formulations, BIOD-238 and BIOD-250, both of which demonstrated rates of absorption that were significantly more rapid than that of Humalog(NYSE:R).
These clinical data, as well as promising animal model and stability studies with aspart-based formulations, led BIOD to seek a supply of insulin aspart to support further formulation development and, possibly, a partner in the clinical development of an aspart-based ultra-rapid-acting insulin formulation.
After the closing bell on Tuesday, BIOD reported the signing of a research supply and technology development agreement with the HEC Pharm subsidiary Yichang Chang Jiang Pharmaceutical Co., Ltd for ultra-rapid-acting insulin aspart.
Under the agreement, HEC will supply insulin aspart, the active pharmaceutical ingredient in Novolog(R), which BIOD will use to formulate aspart based ultra-rapid-acting insulin formulations.
BIOD has granted HEC an option to enter into negotiations for an exclusive license to develop and market in China any resulting product candidates. BIOD maintains rights to the product candidates in worldwide markets outside of China.
BIOD's technology facilitates more natural and rapid absorption of recombinant human insulin analogs than current insulin products and appears to improve its therapeutic efficacy in patients with Type 1 and Type 2 diabetes.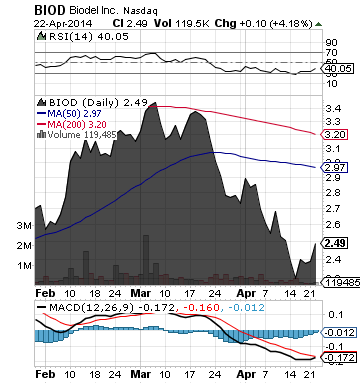 BIOD is a specialty biopharmaceutical company focused on the development and commercialization of innovative treatments for diabetes that may be safer, more effective and more convenient for patients
More about Biodel Inc. (BIOD) at www.biodel.com.
**

Xoom Corporation (NASDAQ:XOOM)
Keep a close eye on XOOM. The company reported strong performance on its financial results.
For the first quarter 2014, XOOM posted revenue of $35.9 million, a 48% increase year over year, gross profit of $26.4 million, a 57% increase compared to the same period the prior year, and GAAP net income of $0.4 million, or $0.01 per diluted share, compared to a net loss of $79,000, or $0.00 per diluted share, for the first quarter of 2013.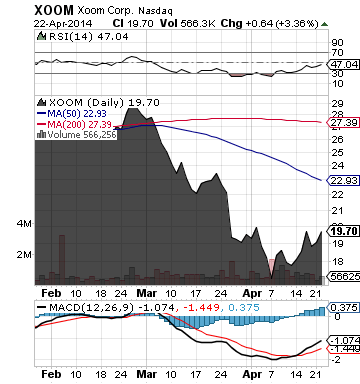 XOOM is a leading digital money transfer provider in 31 countries, focused on helping consumers send money in a secure, fast and cost-effective way using their mobile phone, tablet or computer.
More about Xoom Corporation (XOOM) at www.xoom.com.
**
Read Full Disclaimer at www.pennyomega.com/disclaimer
Disclosure: I have no positions in any stocks mentioned, and no plans to initiate any positions within the next 72 hours.