Advaxis, Inc. (NASDAQ:ADXS)
Cervical cancer starts in a woman's cervix, which is the lower, narrow part of the uterus. It is usually a slow-growing cancer that may not have symptoms but can be found with regular Pap tests (a procedure in which cells are scraped from the cervix and looked at under a microscope). Cervical cancer is almost always caused by human papillomavirus (HPV) infection.
The National Cancer Institute estimated that 12,360 women in the United States would be diagnosed with cervical (uterine cervix) cancer in 2014 and as many as 4,020 women will die from the disease.
ADXS reported final results from the Phase 2 clinical study of its lead immunotherapy product candidate, ADXS-HPV (ADXS11-001), in women with recurrent cervical cancer.
According to ADXS, these data showed that ADXS-HPV was well-tolerated and that 22% (24/109) of the patients were long-term survivors (NYSEMKT:LTS) >18 months. 18% (16/91) of patients were alive for more than 24 months.
To ADXS' knowledge, ADXS-HPV is the first immunotherapy to be associated with objective tumor responses (including complete responses and partial responses) and also with long-term survival either as a monotherapy or in combination with cisplatin chemotherapy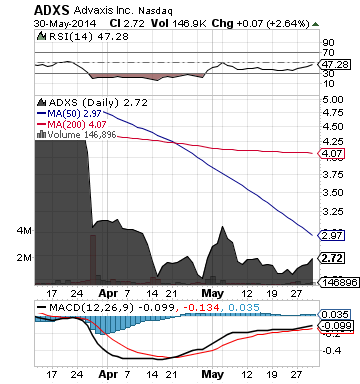 ADXS is a clinical-stage biotechnology company developing multiple cancer immunotherapies based on its proprietary platform intended to redirect the immune system to kill cancer.
More about Advaxis, Inc. (ADXS) at www.advaxis.com
**
B lymphocytes (B cells) are an essential component of the humoral immune response. Produced in the bone marrow, B cells migrate to the spleen and other secondary lymphoid tissues where they mature and differentiate into immunocompetent B cells. Part of the adaptive immune system, B cells are responsible for generating antibodies to specific antigens, which they bind via B cell receptors
Chronic lymphocytic leukemia (also called CLL) is a type of cancer in which the bone marrow makes too many lymphocytes. It is the most common leukemia in the United States
In CLL, too many blood stem cells become abnormal lymphocytes and do not become healthy white blood cells. The abnormal lymphocytes may also be called leukemia cells. The lymphocytes are not able to fight infection very well. Also, as the number of lymphocytes increases in the blood and bone marrow, there is less room for healthy white blood cells, red blood cells, and platelets. This may cause infection, anemia, and easy bleeding.

AbbVie Inc. (ABBV)
ABBV released interim results from a Phase Ib clinical trial of ABT-199/GDC-0199, an investigational B-cell lymphoma 2 (BCL-2) selective inhibitor, in combination with rituximab.
According to ABBV, the results showed an overall response rate (ORR) of 84%, in patients with relapsed/refractory chronic lymphocytic leukemia (CLL).
ABT-199/GDC-0199 is a selective inhibitor of B-cell lymphoma-2 (BCL-2) proteins. The B-cell lymphoma 2 gene prevents apoptosis of some cells including lymphocytes, and can be highly expressed in cancers in the lymph nodes, spleen, and other organs of the immune system. As a BH3-mimetic, ABT-199/GDC-0199 is designed to block the function of the BCL-2 protein by restoring the communication system that tells cancer cells to self-destruct.
Jointly developed by ABBV and Genentech, the companies are pioneering BCL-2 research with ABT-199/GDC-0199, which is currently in Phase III clinical trials for the treatment of CLL and several other cancers.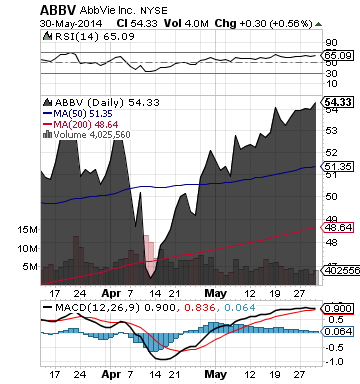 ABBV is a global, research-based biopharmaceutical company. The company's mission is to use its expertise, dedicated people and unique approach to innovation to develop and market advanced therapies that address some of the world's most complex and serious diseases.
More about AbbVie Inc. (NYSE:ABBV) at www.abbvie.com.
*

Pharmacyclics Inc. (NASDAQ:PCYC)
PCYC reported trial results of the first Phase III study (RESONATE, PCYC-1112-CA), a head-to-head comparison of IMBRUVICA(NYSE:R) (ibrutinib) versus ofatumumab in patients with previously treated chronic lymphocytic leukemia or small lymphocytic lymphoma (a slow-growing lymphoma in which too many immature white blood cells cause lymph nodes to become larger than normal).
According to PCYC, patients receiving IMBRUVICA realized a significant improvement in progression free survival, overall survival and overall response rate as compared to patients receiving ofatumumab.
IMBRUVICA is a first in class, oral therapy that inhibits a protein called Bruton's tyrosine kinase (BTK). BTK is a key signaling molecule of the B-cell receptor signaling complex that plays an important role in the survival and spread of malignant B cells. IMBRUVICA blocks signals that tell malignant B cells to multiply and spread uncontrollably.
Janssen and PCYC entered a collaboration and license agreement in December 2011 to co-develop and co-commercialize IMBRUVICA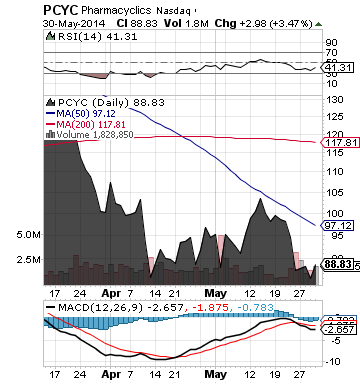 PCYC is a biopharmaceutical company focused on developing and commercializing innovative small-molecule drugs for the treatment of cancer and immune mediated diseases.
More about Pharmacyclics Inc. (PCYC) at www.pharmacyclics.com.
**
Read Full Disclaimer at www.finance.crwe-pr.com/disclaimer
Disclosure: I have no positions in any stocks mentioned, and no plans to initiate any positions within the next 72 hours.