NPS Pharmaceuticals, Inc. (NASDAQ:NPSP)
Keep a close eye on NPSP. Rumors surfaced that the company could be the target of a buyout.
According to a report from The Times of London, Shire plc has lined up a $5 billion credit facility from banks to finance a takeover offer for NPSP.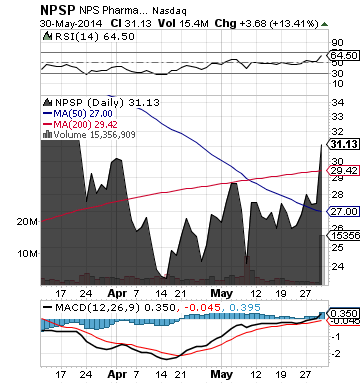 NPSP is a global biopharmaceutical company pioneering and delivering therapies that transform the lives of patients with rare diseases.
More about NPS Pharmaceuticals, Inc. (NPSP) at www.npsp.com.
**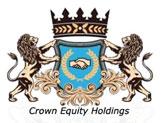 Crown Equity Holdings Inc. (OTCPK:CRWE)
The company is currently developing its CRWE Network (CRWE-PR), a social networking service which business model is based on selling advertising to businesses targeting both locally and nationally.

The CRWE-PR Finance website ( www.finance.crwe-pr.com ), in development stage and currently online, allows CRWE the instant distribution of information to the entire CRWE Network, which has reached the 629th community website in the U.S., associated with 2198 ZIP Codes, and includes coverage of the greater state of California, Northern and Southern Nevada, Wellington in Florida and 10 provinces in Canada.
CRWE provides marketing solutions that boost customer awareness and merchant visibility on the Internet.
More about Crown Equity Holdings Inc. (OTCPK:CRWE) at www.crownequityholdings.com
**

Broadcom Corp. (BRCM)
BRCM reported that it is exploring strategic alternatives for its cellular baseband business, including a potential sale or wind-down.
The successful sale or wind-down of the cellular baseband business is currently expected to result in a roughly $700 million reduction in annualized GAAP research and development and selling, general and administrative expenses, of which approximately $100 million relates to estimated reductions in stock-based compensation. As such, non-GAAP research and development and selling, general and administrative expenses are currently expected to be reduced by roughly $600 million.
BRCM also updated its business outlook for the three months ending June 30, 2014. BRCM continues to expect revenue between $2.0 billion and $2.1 billion. BRCM now expects both GAAP and non-GAAP product gross margin to be at or above the high end of the previously-guided range, driven principally by mix.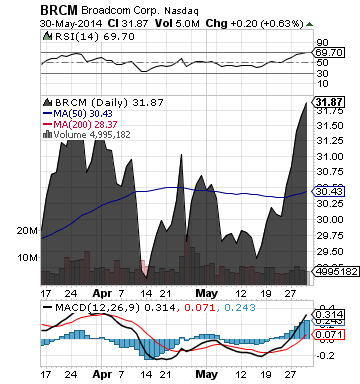 BRCM is a global leader and innovator in semiconductor solutions for wired and wireless communications.
More about Broadcom Corp. (BRCM) at www.broadcom.com.
**

ARIAD Pharmaceuticals, Inc. (NASDAQ:ARIA)
ARIA reported, for the first time, data from its Phase 2 trial of Iclusig(NYSE:R) (ponatinib), the company's approved BCR-ABL inhibitor, in adult patients with refractory metastatic and/or unresectable gastrointestinal stromal tumors (GIST).
The initial data show that ponatinib has anti-tumor activity in patients with advanced GIST, particularly in patients with KIT exon 11 mutations, after failure of at least one prior tyrosine kinase inhibitor (TKI). The primary endpoint for the trial, clinical benefit rate (NYSE:CBR) at 16 weeks for patients with KIT exon 11 mutations, was 50%, with a median follow-up of six months. Preclinically, ponatinib showed compelling activity against activating exon 11 mutations.
ARIA also announced longer-term follow up from its Phase 1 and pivotal Phase 2 trials of Iclusig in heavily pretreated patients with resistant or intolerant chronic myeloid leukemia (NYSE:CML) or Philadelphia chromosome-positive acute lymphoblastic leukemia (Ph+ ALL).
The studies now show that with a median follow-up of 42.5 months for chronic-phase CML (CP-CML) patients in the Phase 1 trial, ARIA's Iclusig continues to demonstrate anti-leukemic activity in those who had limited treatment options, and that deep and durable responses have been maintained in CP-CML patients in the PACE trial with 87% estimated to remain in major cytogenetic response (MCyR) at two years. Longer-term safety data show that careful benefit/risk evaluation should guide the decision to use ponatinib therapy, particularly in patients who may be at increased risk for vascular occlusive events.
Internally discovered at ARIA, ponatinib is a BCR-ABL inhibitor that also selectively inhibits certain other tyrosine kinases in preclinical studies, including FLT3, RET, KIT and the members of the FGFR, PDGFR and VEGFR families of kinases.
ARIA is an integrated global oncology company focused on transforming the lives of cancer patients with breakthrough medicines.
More about ARIAD Pharmaceuticals, Inc. (ARIA) at www.ariad.com
**
Read Full Disclaimer at www.finance.crwe-pr.com/disclaimer
Disclosure: I have no positions in any stocks mentioned, and no plans to initiate any positions within the next 72 hours.