NQ Mobile Inc. (NYSE:NQ)
The trading levels of NQ exploded in the right direction on Wednesday's market activity, after the company reported the results of the independent investigation conducted by an independent Special Committee of NQ's Board of Directors and carried out by its independent counsel Shearman & Sterling LLP and Deloitte & Touche Financial Advisory Services Limited acting as forensic accountants (together, the "Investigation Team")
On October 25, 2013, NQ's board of directors formed an independent Special Committee, consisting of four independent directors of the Company, to conduct a review of fraud allegations made by short seller Muddy Waters the previous day.
The Investigation Team was led by partners in the United States who managed teams based in both the U.S. and China. The Investigation Team conducted a far-ranging investigation of NQ's business activities and financial records in response to the allegations made in Muddy Waters' October 24, 2013 report (and in six subsequent reports and letters issued through January 13, 2014).
The Investigation Team did not find any evidence that NQ had engaged in the fraudulent conduct alleged by Muddy Waters and did not find any evidence that NQ's revenues were inconsistent with public disclosures.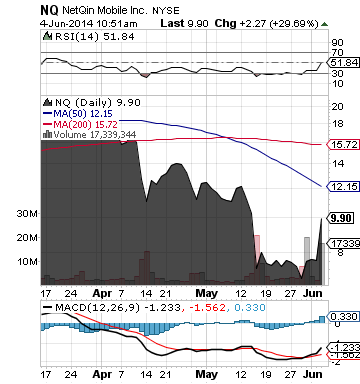 NQ is a leading global provider of mobile internet services.
More about NQ Mobile (NQ) at www.nq.com
**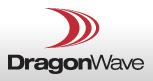 DragonWave Inc. (NASDAQ:DRWI)
Shares of DRWI skyrocketed on Wednesday's trading session after the company reported revised revenue expectations for its first quarter fiscal year 2015. DRWI now expects revenue to show growth of approximately 60% sequentially.
These revised revenue expectations are preliminary, have not been reviewed by DRWI's external auditors, and are subject to completion of customary quarterly closing and internal and external review procedures.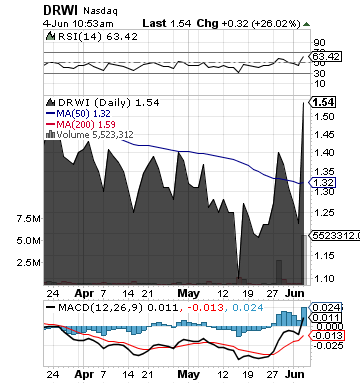 DRWI is a leading provider of high-capacity packet microwave solutions that drive next-generation IP networks.
More about DragonWave Inc. (DRWI) at www.dragonwaveinc.com.
**
Read Full Disclaimer at www.finance.crwe-pr.com/disclaimer
Disclosure: I have no positions in any stocks mentioned, and no plans to initiate any positions within the next 72 hours.