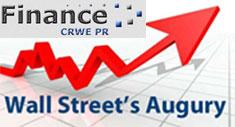 China Ming Yang Wind Power Group Ltd. (NYSE:MY)
Keep a close eye on MY. After the closing bell on Thursday, the company reported that its subsidiary, Jiangsu Mingyang Wind Power Technology Limited has been approved by Rudong Energy Bureau in Jiangsu Province, China, to exclusively develop and operate a 300MW off-shore wind power project off the coast of Rudong in Jiangsu Province, China, subject to certain conditions.
MY expects to continue to leverage the off-shore opportunity in China and deliver its innovative Super Compact Drive wind turbine generators as an effective solution for off-shore wind power projects in China and beyond.
For the first quarter 2014, MY recently reported revenue of RMB1,224.0 million (US$196.9 million), a 52.0% increase year over year, gross profit of RMB192.0 million (US$30.9 million), compared to RMB89.7 million in the same period the prior year and total comprehensive income of RMB185.8 million (US$29.9 million) versus RMB4.5 million in the first quarter 2013. Overall, MY posted diluted EPS of $0.24 for the period.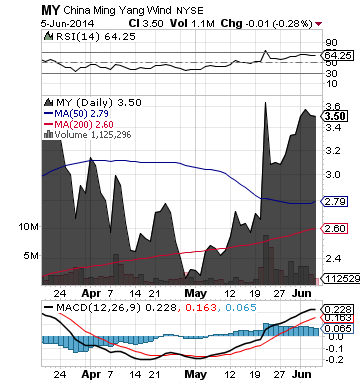 MY is a leading wind turbine manufacturer in China, focusing on designing, manufacturing, selling and servicing megawatt-class wind turbines. MY produces advanced, highly adaptable wind turbines with high energy output and provides customers with comprehensive post-sales services.
MY cooperates with aerodyne Energiesysteme, one of the world's leading wind turbine design firms based in Germany, to co-develop wind turbines. In terms of newly installed capacity, MY was a top 10 wind turbine manufacturer worldwide and the largest non-state owned wind turbine manufacturer in China in 2013.
More about China Ming Yang Wind Power Group Ltd. (MY) at ir.mywind.com.cn
**
Read Full Disclaimer at www.finance.crwe-pr.com/disclaimer
Disclosure: I have no positions in any stocks mentioned, and no plans to initiate any positions within the next 72 hours.