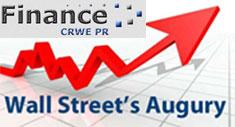 Biogen Idec Inc. (NASDAQ:BIIB)
The U.S. Food and Drug Administration (FDA), an agency within the U.S. Department of Health and Human Services, protects the public health by assuring the safety, effectiveness, and security of human and veterinary drugs, vaccines and other biological products for human use, and medical devices. The agency also is responsible for the safety and security of our nation's food supply, cosmetics, dietary supplements, products that give off electronic radiation, and for regulating tobacco products.
After the closing bell on Friday, BIIB reported that the FDA has approved its ELOCTATE(NYSE:TM) [Antihemophilic Factor (Recombinant), Fc Fusion Protein] for use in adults and children who have Hemophilia A. Eloctate is the first Hemophilia A treatment designed to require less frequent injections when used to prevent or reduce the frequency of bleeding.
Hemophilia is an inherited bleeding disorder in which the blood does not clot properly. This can lead to spontaneous bleeding as well as bleeding following injuries or surgery.
Blood contains many proteins called clotting factors that can help to stop bleeding. People with hemophilia have low levels of either factor VIII or factor IX. The severity of hemophilia that a person has is determined by the amount of factor in the blood. The lower the amount of the factor, the more likely it is that bleeding will occur which can lead to serious health problems.
There are two main types of hemophilia - Hemophilia A (due to factor VIII deficiency) and Hemophilia B (due to factor IX deficiency). They are clinically almost identical and are associated with spontaneous bleeding into joints and muscles and internal or external bleeding after injury or surgery.
Hemophilia A is an inherited, sex-linked, blood clotting disorder, which primarily affects males, and is caused by defects in the Factor VIII gene. Hemophilia A affects 1 in every 5,000 males born in the United States. People with Hemophilia A can experience repeated episodes of serious bleeding, mainly into the joints, which can be severely damaged by the bleeding.
BIIB's ELOCTATE [Antihemophilic Factor (Recombinant), Fc Fusion Protein] is the first recombinant clotting factor VIII therapy with prolonged circulation in the body. It is indicated for the control and prevention of bleeding episodes, perioperative (surgical) management and routine prophylaxis in adults and children with hemophilia A.
BIIB's ELOCTATE is the only treatment for hemophilia A to reduce the frequency of bleeding episodes with prophylactic infusions every three to five days, offering people with hemophilia A the potential to extend the interval between prophylactic infusions.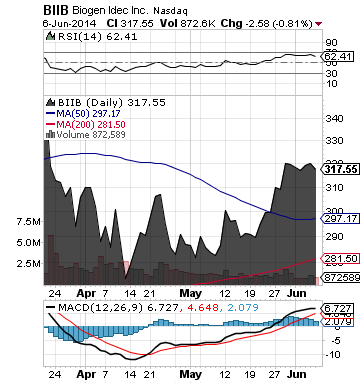 Through cutting-edge science and medicine, BIIB discovers, develops and delivers to patients worldwide innovative therapies for the treatment of neurodegenerative diseases, hemophilia and autoimmune disorders
More about Biogen Idec Inc. (BIIB) at www.biogenidec.com.
**
Read Full Disclaimer at www.finance.crwe-pr.com/disclaimer
Disclosure: I have no positions in any stocks mentioned, and no plans to initiate any positions within the next 72 hours.