BioDelivery Sciences International, Inc. (NASDAQ:BDSI)
Many factors, both individual and environmental, influence whether a particular person who experiments with opioid drugs will continue taking them long enough to become dependent or addicted.
Opioids are prescribed therapeutically to relieve pain, but when opioids activate these reward processes in the absence of significant pain, they can motivate repeated use of the drug simply for pleasure.
Opioid dependence is a medical diagnosis characterized by an individual's inability to stop using opiods (morphine, heroin, codeine, oxycodone, hydrocodone, etc.) even when objectively it is in his or her best interest to do so, and is a major component of opioid addiction.
BDSI reported that it has received approval of the New Drug Application for BUNAVAIL(NYSE:TM) (buprenorphine and naloxone) buccal film from the FDA.
BDSI's BUNAVAIL is the first and only formulation of buprenorphine and naloxone for buccal (inside of the cheek) administration. The ability of BUNAVAIL to stick on the inside of the cheek, unlike sublingual products that need to be kept in place under the tongue until they dissolve, allows patients to talk, swallow and go about normal daily activities while the medication is being consistently absorbed.
BDSI's BUNAVAIL is indicated for the maintenance treatment of opioid dependence and should be used as part of a complete treatment plan to include counseling and psychosocial support.
BDSI's BUNAVAIL is the first mucoadhesive buccal film formulation of buprenorphine to compete directly with Suboxone sublingual film. In 2013, sales of Suboxone sublingual film increased to more than $1.3 billion in the U.S. while the total market grew to more than $1.7 billion, driven by a 14% increase in prescriptions according to data from Symphony Health Solutions.
BDSI plans to launch BUNAVAIL in late third quarter 2014 and anticipates peak sales potential of BUNAVAIL of up to $250 million in the U.S. BDSI will also begin entertaining commercial partnerships for BUNAVAIL outside of the U.S.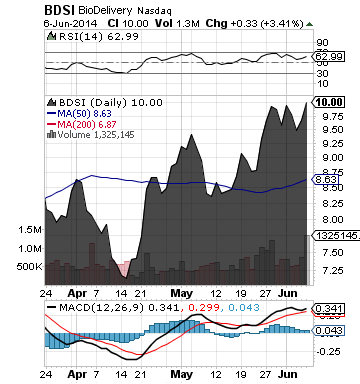 BDSI is a specialty pharmaceutical company that is leveraging its novel and proprietary patented drug delivery technologies to develop and commercialize, either on its own or in partnerships with third parties, new applications of proven therapeutics
More about BioDelivery Sciences International, Inc. (BDSI) at www.bdsi.com.
**
Read Full Disclaimer at www.finance.crwe-pr.com/disclaimer
Disclosure: I have no positions in any stocks mentioned, and no plans to initiate any positions within the next 72 hours.