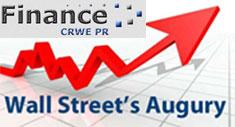 Receptos, Inc. (RCPT)
Multiple sclerosis (NYSE:MS) is an autoimmune disease that affects the central nervous system. With multiple sclerosis, the brain has difficulty getting messages to the rest of the body.
MS can cause a variety of symptoms, including changes in sensation (hypoesthesia), muscle weakness, abnormal muscle spasms, or difficulty in moving; difficulties with coordination and balance (ataxia); problems in speech (dysarthria) or swallowing (dysphagia), visual problems (nystagmus, optic neuritis, or diplopia), fatigue and acute or chronic pain syndromes, bladder and bowel difficulties, cognitive impairment, or emotional symptomatology (mainly depression).
Statistics indicate that there are currently 350,000 to 500,000 people in the U.S. who have been diagnosed with MS. Two hundred people are diagnosed with MS every week and over 2.5 million people are living with the disease worldwide. MS is most commonly diagnosed in individuals between the ages of 20 and 50, although it can develop in young children and teens as well as older adults. The disease is twice as common in women as in men.
Multiple sclerosis relapses are often unpredictable and can occur without warning with no obvious inciting factors.
After the closing bell on Monday, RCPT reported that the Phase 2 portion of the RADIANCE trial of its selective S1P1 receptor modulator, RPC1063, in relapsing multiple sclerosis (RMS) met the primary endpoint, reduction in MRI (magnetic resonance imaging) brain lesion activity.
The overall safety profile of RPC1063 was consistent with the results of prior trials, and continues to support the differentiation of the drug candidate against other oral agents for treatment of RMS on the market or in clinical development.
RCPT's RPC1063 is a sphingosine 1-phosphate 1 receptor (S1P1R) small molecule modulator candidate for immune indications, including relapsing multiple sclerosis and inflammatory bowel disease.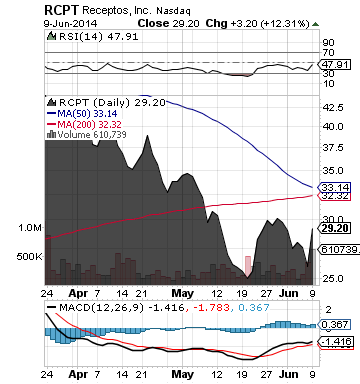 RCPT is a biopharmaceutical company developing therapeutic candidates for the treatment of immune and metabolic diseases.
More about Receptos, Inc. (RCPT) at www.receptos.com
**
Read Full Disclaimer at www.finance.crwe-pr.com/disclaimer
Disclosure: I have no positions in any stocks mentioned, and no plans to initiate any positions within the next 72 hours.