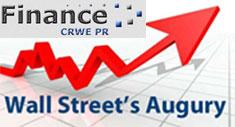 Agios Pharmaceuticals, Inc. (NASDAQ:AGIO)
White blood cells (leukocytes) are used by the body to fight infections and other foreign substances.
Leukemia is a type of cancer that starts in cells that form new blood cells. These cells are found in the soft, inner part of the bones called the bone marrow.
Leukemia leads to an uncontrolled increase in the number of white blood cells. The cancerous cells prevent healthy red cells, platelets, and mature white cells (leukocytes) from being made. Life-threatening symptoms can then develop.
Acute myeloid leukemia (AML) is one of the most common types of leukemia among adults. AML starts in the bone marrow, but in most cases it quickly moves into the blood. It can sometimes spread to other parts of the body including the lymph nodes, liver, spleen, central nervous system (brain and spinal cord), and testicles (in men).
This type of cancer, more common in men than women, is rare under age 40. The National Cancer Institute estimated that 18,860 people in the U.S. would be diagnosed with AML in 2014 and as many as 10,460 people will die from the disease. Less than 10% of U.S. patients are eligible for bone marrow transplant, and the vast majority of patients do not respond to chemotherapy and progress to relapsed/refractory AML.
AGIO reported new clinical data from the ongoing Phase 1 study of AG-221, designed to assess the safety and tolerability of AG-221 as a single agent administered orally once or twice daily in a 28-day cycle, in patients that harbor an IDH2 mutation with advanced hematologic malignancies, including acute myeloid leukemia (AML)
IDH1 and IDH2 are two metabolic enzymes that are mutated in a wide range of hematologic and solid tumor malignancies. The prevalence of IDH is expected to evolve as genomic analysis of tumors increase. AGIO's research revealed the potential of IDH1 and IDH2 mutations as novel therapeutic targets in cancer, which may lead to clinical benefit for the subset of cancer patients whose tumors carry them. Patients carry either an IDH1 or IDH2 mutation, but not both.
AG-221, an IDH2 mutant inhibitor, continues to show favorable drug exposure and pharmacokinetics at all doses tested with substantial reductions in plasma levels of the oncometabolite 2-hydroxyglutarate (2HG). Safety data show that AG-221 is well tolerated, with the majority of adverse events reported as mild to moderate.
AGIO and Celgene Corporation entered into a global strategic collaboration in April 2010 to develop new therapeutics targeting cancer metabolism. Celgene has exercised its option to an exclusive worldwide license to AG-221.
Under the terms of the agreement, the option to license extended to Celgene through the end of Phase 1, but AG-221 has been exercised early based on the Phase 1 data generated to date. By exercising its exclusive option under the terms of the agreement, Celgene gains worldwide development and commercialization rights for AG-221. AGIO, in addition to contributing its scientific and translational expertise, will continue to conduct early clinical development and regulatory activities within the AG-221 development program in collaboration with Celgene. Celgene is responsible for all development costs for AG-221.
AGIO is eligible for up to $120 million in milestone payments and a tiered royalty on any net sales. AGIO also has the right to conduct a portion of any commercialization activities for AG-221 in the United States.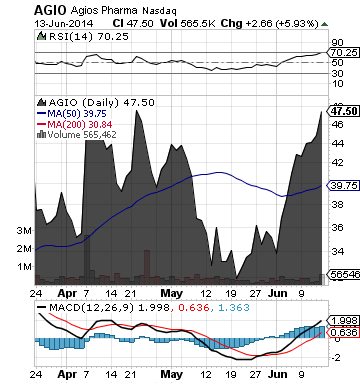 AGIO is focused on discovering and developing novel drugs to treat cancer and inborn errors of metabolism, or IEMs, which are rare genetic metabolic diseases, through scientific leadership in the field of cellular metabolism.
More about Agios Pharmaceuticals, Inc. (AGIO) at www.agios.com.
**
Read Full Disclaimer at www.finance.crwe-pr.com/disclaimer
Disclosure: The author has no positions in any stocks mentioned, and no plans to initiate any positions within the next 72 hours.