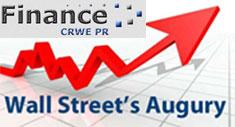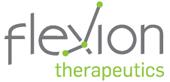 Flexion Therapeutics, Inc. (NASDAQ:FLXN)
Osteoarthritis (NYSE:OA) is one of the most common forms of arthritis. It is a chronic condition in which the material that cushions the joints, called cartilage, breaks down. This causes the bones to rub against each other, causing stiffness, pain and loss of joint movement. OA tends to occur in the hand joints, spine, hips, knees, and great toes.
About 27 million Americans are living with OA. Common risk factors include increasing age, obesity, previous joint injury, overuse of the joint, weak thigh muscles, and genetics.
There is no cure for OA and the goal of treatment in the joint disease is to reduce pain and improve function.
FLXN reported positive topline clinical trial results from a Phase 2a synovial fluid pharmacokinetic study of FX006, which demonstrated, for the first time, that a single intra-articular injection of FX006 can provide therapeutic concentrations of drug in joint fluid for at least 12 weeks.
FX006 is FLXN's novel, non-opioid, sustained-release, intra-articular formulation of triamcinolone acetonide. It is designed to provide prolonged pain relief for the treatment of OA of the knee, while potentially avoiding untoward systemic effects associated with immediate-release steroids.
These FX006 data represent a six-fold increase in the duration of joint residency compared with immediate-release triamcinolone acetonide, which is the current standard of care injectable therapy. It is also noteworthy that a prior pharmacokinetic study of FX006 demonstrated that the peak plasma concentration in the hours following injection was decreased 40-fold relative to immediate-release triamcinolone acetonide, a decrease that may meaningfully reduce adverse systemic side effects.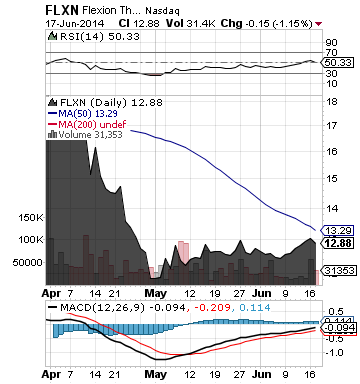 FLXN is a clinical-stage specialty pharmaceutical company focused on the development and commercialization of novel pain therapies. FLXN is currently advancing a portfolio of injectable drug candidates that have the potential to provide better and more persistent analgesia compared with existing therapy.
More about Flexion Therapeutics, Inc. (FLXN) at www.flexiontherapeutics.com
**
Read Full Disclaimer at www.finance.crwe-pr.com/disclaimer
Disclosure: The author has no positions in any stocks mentioned, and no plans to initiate any positions within the next 72 hours.