Adobe Systems Inc. (NASDAQ:ADBE)
Shares of ADBE are trading on different levels, after the company delivered stronger financial results than expected, driven by accelerated adoption of Creative Cloud and Adobe Marketing Cloud.
For the second quarter fiscal year 2014, ADBE posted revenue of $1.07 billion, above the high end of its targeted range of $1.00 billion to $1.05 billion, and non-GAAP diluted earnings per share of $0.37. That topped analysts' average estimate of $0.30 a share on sales of $1.03 billion.
ADBE's net income for the period rose to $88.5 million, or $0.17 per share, from $76.5 million, or $0.15 per share, in the second quarter fiscal year 2013
ADBE exited the second quarter with 2 million 308 thousand paid Creative Cloud subscriptions, an increase of 464 thousand when compared to the number of subscriptions as of the end of first quarter fiscal year 2014.
Marketing Cloud quarterly revenue was $283 million, representing 23% year-over-year growth, and 53% of ADBE's second quarter revenue was from recurring sources such as Creative Cloud and Adobe Marketing Cloud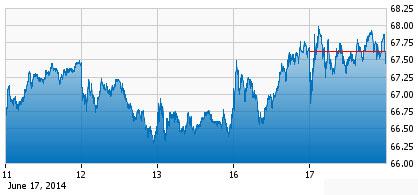 ADBE operates as a diversified software company worldwide. It is changing the world through digital experiences.
More about Adobe Systems Inc. (ADBE) at www.adobe.com
**

Alkermes plc (ALKS)
Schizophrenia is a chronic, severe, and disabling brain disorder that has affected people throughout history.
People with the disorder may hear voices other people don't hear. They may believe other people are reading their minds, controlling their thoughts, or plotting to harm them. This can terrify people with the illness and make them withdrawn or extremely agitated.
An estimated 2.4 million American adults have schizophrenia, with men and women affected equally. Worldwide, it is estimated that one person in every 100 develops schizophrenia, one of the most serious types of mental illness.
Long-acting injectable antipsychotics provide patients with blood concentrations of active drug that remain within a therapeutic range for an extended period of time and allow healthcare providers to track patient adherence
ALKS reported data from its phase 3 clinical trial of aripiprazole lauroxil, an investigational drug candidate in development for schizophrenia.
In the pivotal study, both doses of aripiprazole lauroxil tested, 441 mg and 882 mg administered once-monthly, met the primary endpoint with statistically and clinically significant reductions in Positive and Negative Syndrome Scale (PANSS) scores, met all secondary endpoints and demonstrated significant improvements in schizophrenia symptoms versus placebo. This is the first demonstration of the efficacy of a range of doses of a long-acting injectable form of aripiprazole in a randomized clinical trial.
ALKS remains on track to submit a New Drug Application (NDA) to the U.S. Food and Drug Administration (FDA) in the third quarter of 2014.
Aripiprazole lauroxil is an injectable atypical antipsychotic with one-month and two-month formulations in development for the treatment of schizophrenia. Once in the body, aripiprazole lauroxil converts to aripiprazole, which is commercially available under the name ABILIFY(NYSE:R).
As a long-acting investigational medication based on ALKS' proprietary LinkeRx(R) technology, aripiprazole lauroxil is designed to have multiple dosing options and to be administered in a ready-to-use, prefilled product format.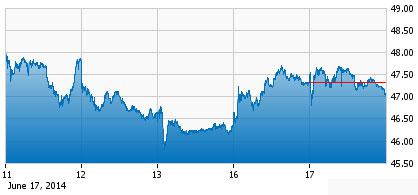 ALKS is a fully integrated, global biopharmaceutical company that applies its scientific expertise and proprietary technologies to develop innovative medicines that improve patient outcomes.
More about Alkermes plc (NASDAQ:ALKS) at www.alkermes.com.
**
Read Full Disclaimer at www.finance.crwe-pr.com/disclaimer
Disclosure: The author has no positions in any stocks mentioned, and no plans to initiate any positions within the next 72 hours.