Sequenom Inc. (NASDAQ:SQNM)
Brokerage firm Jefferies Group has initiated SQNM with a Buy rating and a price target of $5.00 per share.
In January 2014, SQNM's affiliate Sequenom Laboratories granted Nicox Inc. exclusive rights to promote the RetnaGene AMD and RetnaGene LR laboratory-developed tests to eye care practitioners in North America (United States, Canada, Puerto Rico and Mexico) and co-exclusive rights towards specialized retina physicians.
Recently, Nicox Inc. reported that it is launching expanded access to Sequenom Laboratories' RetnaGene(NYSE:TM) portfolio of laboratory-developed genetic tests in the United States (U.S.). The RetnaGene portfolio includes RetnaGene AMD and RetnaGene LR, specialized genetic tests, which assess an individual's risk for advanced age-related macular degeneration (NYSE:AMD).
AMD is an insidious, progressive eye disorder that starts with relatively harmless tiny yellow deposits on the retina (the light sensitive tissue in the eye) and increases in prevalence and severity with age. It is the most common cause of visual impairment and the leading cause of blindness in the elderly population in the developed world. Advanced AMD represents 10 to 15 percent of all AMD cases and is estimated to affect at least 1.75 million patients in the U.S.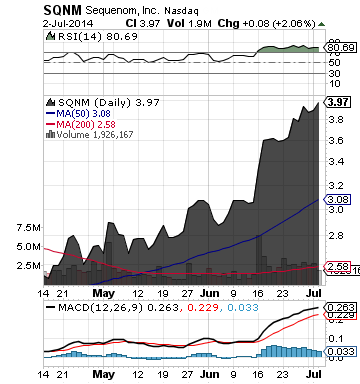 SQNM is a life sciences company committed to improving healthcare through revolutionary genomic and genetic analysis solutions.
More about Sequenom Inc. (SQNM) at www.sequenom.com.
**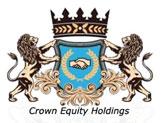 Crown Equity Holdings Inc. (OTCPK:CRWE)
CRWE reported the execution of a letter of intent to acquire American Video Teleconferencing Corp., (OTCPK:AVOT). The proposed acquisition will be a stock transaction in which CRWE will acquire ninety five percent (95%) of American Video Teleconferencing Corp.'s outstanding shares.
Upon the execution of a definitive agreement and subsequent closing of the transaction, it is envisioned that American Video Teleconferencing Corp. will become a subsidiary of CRWE.
CRWE may then merge another subsidiary, Roxzu, into American Video Teleconferencing Corp.
.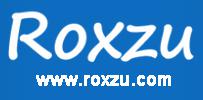 Roxzu ( www.roxzu.com ), in development stage, is an on-line e-commerce coupon distribution channel and marketplace for merchants to create brand awareness for their business. Roxzu is focusing first on restaurants and dining but has plans to expand the application to include auto repairs, Realtor, bars, movie theaters, retailers, golf courses, auto dealerships and any other variety of businesses existing within a community.
Crown Equity Holdings is currently developing its CRWE Network (CRWE-PR.com), a social networking service which business model is based on selling advertising to businesses targeting both locally and nationally.
The geo-location based mobile marketing application Roxzu is expected to be integrated in all the CRWE network, which has reached the 747th community website in the U.S., associated with 2318 ZIP Codes, and includes coverage of the greater state of California, Northern and Southern Nevada, Wellington in Florida, Hattiesburg in Mississippi and 10 provinces in Canada.
The CRWE-PR Finance website ( www.finance.crwe-pr.com ) allows Crown Equity Holdings the instant distribution of information to the entire CRWE Network.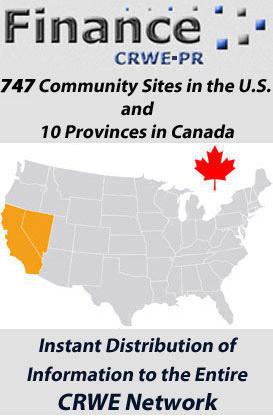 CRWE provides marketing solutions that boost customer awareness and merchant visibility on the Internet.
More about Crown Equity Holdings Inc. (OTCPK:CRWE) at www.crownequityholdings.com
**

PetSmart, Inc. (NASDAQ:PETM)
In a regulatory filing, activist hedge fund Jana Partners disclosed a 9.9% stake in PETM and stated that it intends to have discussions with the company's board of directors and management regarding a review of strategic alternatives including exploring a sale, improving operating performance, PETM's capital structure including providing for a significant return of capital to shareholders, improving its capital allocation policy and disclosure to shareholders, and management and board composition.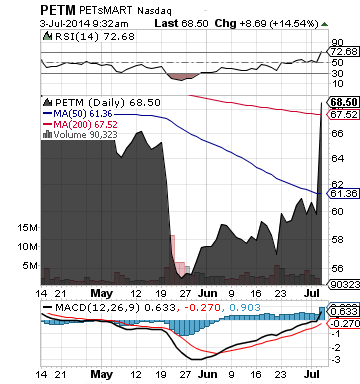 PETM is the largest specialty pet retailer of services and solutions for the lifetime needs of pets.
More about PetSmart, Inc. (PETM) at www.petsmart.com
**
Read Full Disclaimer at www.finance.crwe-pr.com/disclaimer
Disclosure: The author has no positions in any stocks mentioned, and no plans to initiate any positions within the next 72 hours.