NeuroMetrix, Inc. (NASDAQ:NURO)
Keep a close eye on NURO. The company reported that its wearable technology for treatment of chronic pain received 510(k) clearance (K140333) from the FDA for over-the-counter use.
NURO is in late stage development of a consumer oriented chronic pain treatment product. The device is based on wearable technology, presently deployed in NURO's SENSUS(NYSE:R) Pain Management System, that utilizes comfortable, non-invasive electrical stimulation of sensory nerves to induce safe and effective pain relief. It is lightweight and can be worn during the day while active, and at night while sleeping.
This 510(k) clearance allows NURO to market the over-the-counter device through retail distribution channels without a prescription requirement.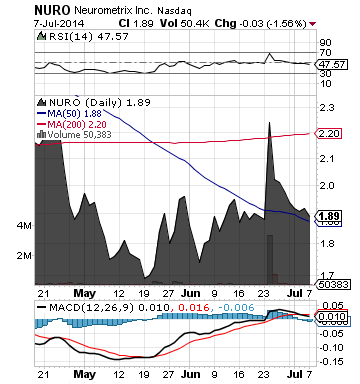 NURO is an innovative health-care company that develops wearable medical technology and point-of-care tests that help patients and physicians better manage chronic pain, nerve diseases, and sleep disorders. NURO has a major focus on diabetic neuropathies, which affect over 50% of people with diabetes. If left untreated, diabetic neuropathies trigger foot ulcers that may require amputation and cause disabling chronic pain.
NURO markets the SENSUS device for treating chronic pain, focusing on physicians managing patients with neuropathic pain such as painful diabetic neuropathy. NURO also markets DPNCheck(R), which is a rapid, accurate, and quantitative point-of-care test for peripheral neuropathies such as diabetic neuropathy. This product is used to detect neuropathies at an early stage and to guide treatment.
More about NeuroMetrix, Inc. (NURO) at www.NeuroMetrix.com.
**

Warren Resources Inc. (NASDAQ:WRES)
Brokerage firm Brean Capital has raised its price target on WRES from $6.00 to $8.00 per share following its acquisition of Citrus Energy's Marcellus assets. The firm currently has a "Buy" rating on WRES.
WRES reported that it has executed a purchase and sale agreement to acquire essentially all of the Marcellus assets of Citrus Energy Corporation and two additional working interest owners for $352.5 million. This acquisition provides WRES with a substantial new basin platform in the prolific Marcellus Shale and adds a new core area to WRES' existing California oil and Wyoming natural gas assets.
The assets are currently producing approximately 82 million net cubic feet per day of natural gas, as of June 2014. Estimated net proved reserves, as of the July 1, 2014 economic effective date, totaled approximately 208.3 billion cubic feet, 55% proved developed, as estimated by Netherland, Sewell & Associates, Inc., WRES' independent petroleum engineering firm.
WRES is an independent energy company engaged in the acquisition, exploration, development and production of domestic oil and natural gas reserves.
More about Warren Resources Inc. (WRES) at www.warrenresources.com
**
Read Full Disclaimer at www.finance.crwe-pr.com/disclaimer
Disclosure: The author has no positions in any stocks mentioned, and no plans to initiate any positions within the next 72 hours.