Twitter, Inc. (NYSE:TWTR)
Keep a close eye on TWTR. The company reported strong financial and operating results, above Wall Street's expectations.
For the second quarter 2014, TWTR posted revenue of $312 million, an increase of 124% year over year, and Non-GAAP net income of $14.6 million, or $0.02 per diluted share, compared to a Non-GAAP net loss of $16.4 million, or ($0.12) per diluted share.
As of June 30, 2014, cash, cash equivalents and marketable securities were approximately $2.1 billion, compared to $2.2 billion as of March 31, 2014.
Twitter users surged to 271 million in the second quarter, from 255 million monthly active users in December. Those users sent an average of 500 million Tweets a day.
According to its business outlook for the third quarter of 2014, TWTR expects revenue to be in the range of $330 million to $340 million, while for the full year 2014 TWTR's revenue is projected to be in the range of $1.31 billion to $1.33 billion.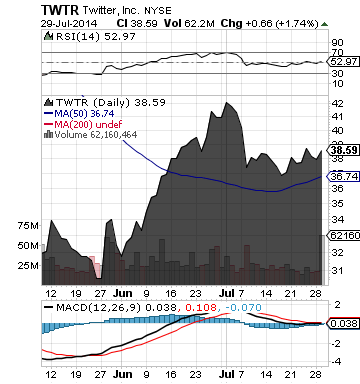 TWTR is a global platform for public self-expression and conversation in real time
More about Twitter, Inc. (TWTR) at www.Twitter.com,
**

Hansen Medical, Inc. (NASDAQ:HNSN)
Uterine fibroids are tumors that grow in a woman's womb. They are the most common benign tumors in women and the leading cause for hysterectomies in the US. As many as 1 in 5 women may have fibroids during their childbearing years. Half of all women have fibroids by age 50.
Uterine artery embolization is a minimally-invasive treatment option for uterine fibroids in which a catheter is used to deliver small particles into the uterine artery to stop blood flow to the fibroids.
HNSN's Magellan Robotic System is intended to be used to facilitate navigation in the peripheral vasculature and subsequently provide a conduit for manual placement of therapeutic devices. HNSN's Magellan Robotic System is designed to deliver improved predictability, control and catheter stability to endovascular procedures.
HNSN reported that a study, published online in the Journal of Vascular Interventional Radiology, found the use of the HNSN's Magellan Robotic System in uterine artery embolization ("UAE") procedures is feasible and appears to be safe.
Researchers reviewed the results of five patients treated with robot-assisted UAE over a 10 month period. They conducted the study to investigate the safety and feasibility of the Magellan 9Fr Robotic Catheter in this complex arterial bed.
All procedures were successfully completed without local puncture site complications or access vessel injuries. Further, robotic bilateral internal iliac artery cannulation was successfully performed in all cases. At the six-month follow-up mark, all patients reported significant improvement in symptoms and quality-of-life.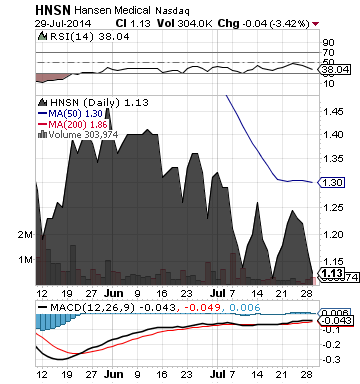 HNSN is a global leader in Intravascular Robotics, developing products and technology designed to enable the accurate positioning, manipulation and control of catheters and catheter-based technologies.
More about Hansen Medical, Inc. (HNSN) at www.hansenmedical.com.
**
Read Full Disclaimer at www.finance.crwe-pr.com/disclaimer
Disclosure: The author has no positions in any stocks mentioned, and no plans to initiate any positions within the next 72 hours.