FreightCar America Inc. (NASDAQ:RAIL)
Keep a close eye on RAIL. The company reported strong performance on its financial results, highlighted by deliveries, revenue and net income at their highest levels since the third quarter of 2012, and manufacturing backlog at its highest quarter-end level since 2006.
For the second quarter 2014, RAIL posted revenues of $139.7 million and net income of $1.6 million, or $0.13 per diluted share, compared to revenues of $47.1 million and a net loss of $3.4 million, or $(0.29) per diluted share, in the same period the prior year, and revenues of $56.1 million with a net loss of $6.9 million, or $(0.58) per diluted share, in the first quarter of 2014.
In the period, RAIL delivered 1,635 railcars, versus 710 railcars delivered in the second quarter of 2013, and 753 railcars delivered in the previous quarter.
According to RAIL, it is well positioned to deliver the expected 7,000 cars for the full year of 2014 and the strong order activity during the second quarter will help to carry this momentum into 2015.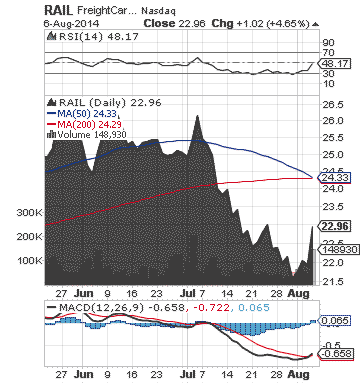 RAIL manufactures a wide range of railroad freight cars, supplies railcar parts, leases freight cars through its JAIX Leasing Company subsidiary and provides railcar maintenance and repairs through its FreightCar Rail Services, LLC subsidiary.
More about FreightCar America Inc. (RAIL) at www.freightcaramerica.com.
**
The Medicines Company (NASDAQ:MDCO)
Acute bacterial skin and skin structure infections (ABSSSIs) are deep tissue lesions (e.g., cellulitis, major cutaneous abscesses and wound infections) and can be associated with significant comorbidities (e.g., diabetes). A variety of pathogens may be identified in ABSSSI with two of the most common being Staphylococcus aureus (methicillin susceptible Staphylococcus aureus and methicillin-resistant Staphylococcus aureus) and Streptococcus pyogenes.
MDCO reported that the FDA has approved ORBACTIV(NYSE:TM) (oritavancin) for injection for the treatment of adults with ABSSSI caused by susceptible designated Gram-positive bacteria including methicillin-resistant Staphylococcus aureus
ORBACTIV is the first and only antibiotic approved by FDA to treat ABSSSIs with a single, once-only administration. Once fully infused over three hours, the ORBACTIV treatment regimen is complete for patients with skin infections caused by susceptible Gram-positive pathogens.
The FDA approval of ORBACTIV represents the first infectious disease treatment in MDCO's product pipeline to address infections caused by resistant strains of bacteria.
MDCO is developing solutions that span the spectrum of infections caused by Gram-positive bacteria including methicillin-resistant Staphylococcus aureus, and Gram-negative infections. MDCO's emerging product pipeline has the potential to offer innovative new antibiotic approaches to tackle many of the problems in infectious diseases today.
The European Medicines Agency has accepted for review the Marketing Authorization Application for ORBACTIV, for which MDCO is seeking approval for the treatment of complicated skin and soft tissue infections. A decision from the European Commission is expected during the first half of 2015.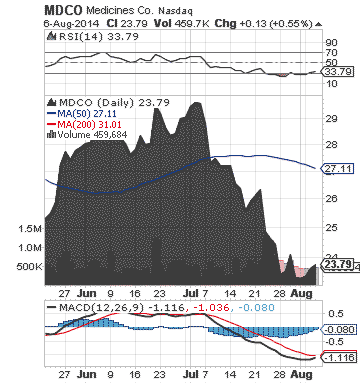 MDCO's vision is to be a leading provider of solutions in three areas: serious infectious disease care, acute cardiovascular care and surgery and perioperative care.
More about The Medicines Company (MDCO) at www.themedicinescompany.com
**

Rio Tinto plc (NYSE:RIO)
RIO reported an outstanding half year performance that reflects the quality of its world-class assets, its programme of operational excellence and the company's ability to drive performance during a period of weaker prices.
During the first half 2014, RIO has increased underlying earnings by 21% to $5.1 billion and enhanced operating cash flow by 8%. RIO exceeded its $3 billion operating cash cost reduction target six months ahead of schedule while producing record volumes and driving productivity improvements across all its businesses.
RIO has decreased net debt by $6.0 billion compared with this time last year, through its stronger operating cash flows, sharply reduced capital spend and proceeds from divestments.
RIO is confident that its low cost, diversified portfolio will continue to generate strong and sustainable cash flows over the coming years and this solid foundation for growth will result in materially increased cash returns to shareholders, underscoring the company's commitment to deliver greater value.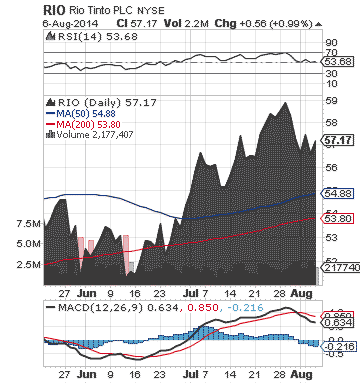 RIO is a leading international mining group. RIO's business is finding, mining, and processing mineral resources. Major products are aluminium, copper, diamonds, thermal and metallurgical coal, uranium, gold, industrial minerals (borax, titanium dioxide and salt) and iron ore.
More about Rio Tinto plc (RIO) at www.riotinto.com
**
Read Full Disclaimer at www.finance.crwe-pr.com/disclaimer
Disclosure: The author has no positions in any stocks mentioned, and no plans to initiate any positions within the next 72 hours.